Ukraine intends to build the AN planes in Kazakhstan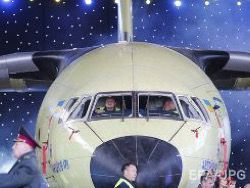 In Kazakhstan there is a possibility of assembly of planes of a series of An of the Ukrainian production. It was declared by the adviser of the Minister of economic development and trade of Ukraine Oleg Yakovenko at the Ukrainian-Kazakhstan business forum in Astana, reports "Interfax Ukraine".
The adviser of the minister specified that together with Kazakhstan is planned to assemble planes of the models An-140 and An-100.
Yakovenko told about plans and creation prospects on the basis of the aviation technical center in the capital of Kazakhstan of servicing of planes of An. Also the adviser of the minister did not exclude prospect of deliveries of the ready planes An-148, An-158 and An-178, presented in 2015 on Le Bourget air show.
The state enterprise "Antonov" – the unique producer in Ukraine transport, passenger planes and special purpose planes. Among its most known development – planes An-32, An-148, An-158, An-74, An-124, An-70 and An-225. According to administration statements, "Antonov" intends to sell 25 planes in a year.
In the current year "Antonov" agreed about cooperation with Saudi Arabia about modernization by joint efforts of the An-32 plane. Besides, new An-178 according to the license will make in China. Conditions of cooperation are not disclosed at will of the Chinese party.