Aeroflot received the notice of a ban of flights from Kiev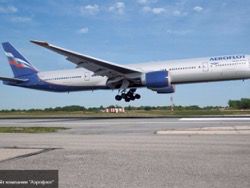 The Aeroflot company received the formal notice from the authorities of Ukraine about a ban since October 25 of flights to the country. Representatives of an air carrier reported about it.
«We can confirm obtaining the letter from the Ukrainian authorities about the termination of flights of Aeroflot airline to Ukraine since the beginning of the winter schedule, namely since October 25 of this year», – told TASS in airline.
Except "Aeroflot", subsidiaries got to the sanktsionny list – airlines "Russia", "Donavia", "Orenburg Airlines". The Transaero company which passed recently under operational management of "Aeroflot", too appeared under a ban. Ministry of Transport of Russia already promised to take mirror measures and to close the sky for the Ukrainian planes.
Earlier in "Aeroflot" declared that the Russian airline will inform at once on cancellation of flights of passengers as soon as will receive from the authorities of Ukraine the formal notice. After that to people will explain how to return money for the acquired tickets.