Rockwell International OV-IO Bronco
OV-ЮА to -10E
Origin: Rockwell International Corp, USA.
Type: (Except B) two-seat multi-role counter-insurgency: (B) target tug. Engines: (Except B(Z)) two 715ehp AiResearch T76-410/411 single­shaft centrifugal turboprops: (B(Z) ) as other versions plus General Electric J85-4 turbojet of 2,950lb (1338kg) thrust above fuselage.
Dimensions: Span 40ft (12-19m); length (except D) 41ft 7in (12-67m); (D) 44ft (1 3-4m); height 1 5ft 2in (462m).
Weights: Empty (A) 6,969lb (3161kg): maximum loaded (A) 14,4661b (6563kg).
Performance: Maximum speed (A, sea level, clean) 281 mph (452km/h): initial climb 2,300ft (700m)/min: (B(Z) ) 6,800ft/min: service ceiling 30,000ft (91 50m): range with maximum weapon load, about 600 miles (960km): ferry range at 12,0001b gross, 1,428 miles (2300km). Armament: Four 7-62mm M60C machine guns in sponsons; 1,2001b (544kg) hardpoint on centreline and four 6001b (272kg) points under sponsons: one Sidewinder missile rail under each wing; (OV-10D) as other versions plus three-barrel 20mm cannon in remotely aimed ventral power turret.
History: First flight 16 July 1965; (production OV-10A) 6 August 1967; (YOV-10D) 9 June 1970.
Users: W Germany, Indonesia, S Korea, Thailand, USA (Air Force, Marine Corps), Venezuela.
Development: Recognising that no US aircraft was tailored to the urgent task of fighting Со-In (counter-insurgency) operations, or "brush-fire wars", the US Department of Defense in 1960 began study of the problem and in 1962 issued a joint USAF/Navy/Marine Corps specification for a Light Armed Reconnaissance Aircraft (LARA). The winner, in 1964, was
Above: Three-view of OV-IOA with side view (bottom) of OV-10B(Z).
the Bronco. Designed to operate from short rough strips (or on floats or skis) it can carry a wide range of tactical equipment and weapons, including doppler radar, TV reconnaissance, five paratroops or two casualties. The OV-ЮА was ordered in October 1966 and by 1969 the Marine Corps had 114, while the USAF were using 1 57 for Forward Air Control (FAC) duties in Vietnam. In 1969 Pave Nail Conversion of 15 aircraft fitted them with laser rangers, stabilized night sighting system, Loran and other devices for night FAC, attack or target illumination for other aircraft. The В and jet – boosted B(Z) are used by the Luftwaffe. The OV-1OD has Night Observation Gunship (NOGS) equipment, with long-nosed IR sensor, cannon turret and, as a conversion, 1 .OOOehp T76 engines.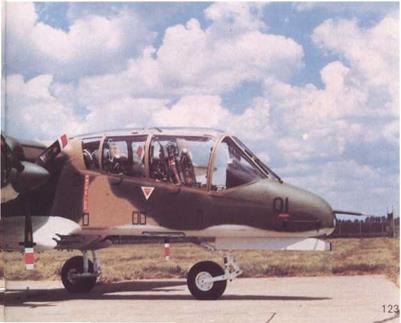 Below: Almost identical to the basic American OV-1 OA is the OV-10F, 16 of which were supplied to Indonesia. They equip one squadron dedicated to counter-insurgent duties, though the aircraft is also equipped for the carriage of 3,200lb (1452kg) of cargo, five parachute troops or two stretcher casualties.