Mikoyan/Gurevich MiG-23
MiG-23, -23S and -23U ("Flogger")
Origin: The design bureau named for Mikoyan and Gurevich, Soviet Union: no production outside the Soviet Union yet reported.
Type: (-23S, Flogger B) single-seat all-weather interceptor with Flogger E export variant of unknown designation: (-23U, Flogger C) dual-control trainer and ECM platform.
Engine: One Tumansky afterburning turbofan, believed to be an R-29B rated at 17.6401b (8000kg) dry and 25,3501b (11,500kg) with afterburner. Dimensions: (Estimated) Span (72° sweep) 28ft 7in (8-7m), (16°) 47ft 3in (14-4m): length (export) 53ft (16-16m). (S, U) 55ft 1 iin (16-80m); height 1 3ft (3-96m).
Weights: (Estimated) empty 17,5001b (7940kg): loaded (clean or fighter mission) 30,0001b (13.600kg): maximum permissible 33,0001b (15,000kg). Performance: Maximum speed, clean, 840mph (1 350km/h, Mach 1 -1) at sea level: maximum speed with missiles, at altitude, 1,520mph (2445km/h, Mach 2-3): service ceiling about 61,000ft (18,600m): combat radius (hi-lo-hi) about 600 miles (966km).
Armament: (-23S) one 23mm GSh-23 twin-barrel gun on ventral centreline, plus various mixes of air/air missiles which usually include one or two infra-red or radar-homing AA-7 "Apex" and/or infra-red or radar-homing AA-8 "Aphid", the latter for close combat: (-23U) none reported.
History: First flight, probably 1965: (first production aircraft) believed 1970: service delivery, believed 1971.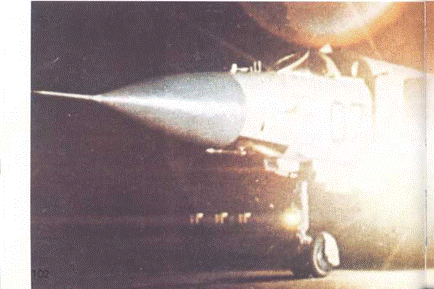 Users: Algeria, Bulgaria, Czechoslovakia, Egypt, Ethiopia, East Germany, Iraq, Libya, Poland, Soviet Union, Syria. continued►
Above: Three-view of MiG-23S, with side view of MiG-23U trainer (lower right).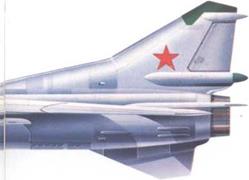 Left: A MiG-23S or 'Flogger-B' air-combat fighter of the Soviet air force, probably from an IA-PVO air-defence unit.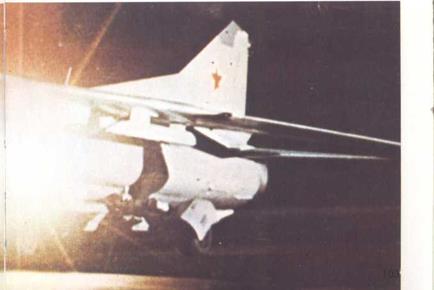 Below: Night training by PVO unit equipped with MiG-23S. This example, with missile pylons tantalisingly empty, is taxiing with wings swept, which may be standard procedure with such aircraft.
Development: Revealed at the 1967 Moscow Aviation Day, the prototype swing-wing MiG-23 was at first thought to be a Yakovlev design, though it appeared in company with a jet-lift STOL fighter having an identical rear fuselage and tail and strong MiG-21-like features (though much bigger than a MiG-21). Over the next four years the Mikoyan bureau greatly developed this aircraft, which originally owed something to the F-111 and Mirage G. By 1971 the radically different production versions, the -23S fighter and -23U trainer, were entering service in quantity, and by 1975 several hundred had been delivered to Warsaw Pact air forces and also to Egypt Today Egypt is believed no longer to operate the type, but large deliveries have been made to other countries. The MiG-27 attack version is described separately.
There are three main versions. The first to enter service was the MiG-23S all-weather interceptor, with powerful highly-afterburning engine, "High Lark" nose radar (said in 1973 by the then Secretary of the USAF to be "comparable with that of the latest Phantom") and, almost certainly, a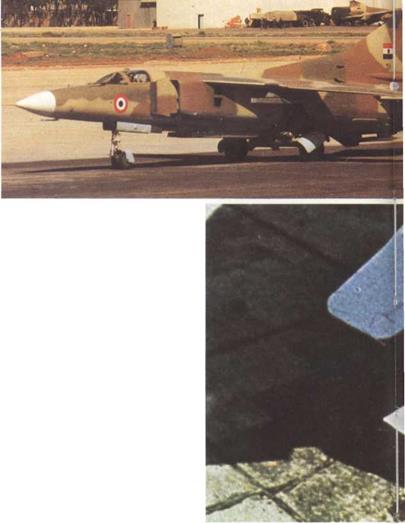 Above: Called 'Flogger-E' by NATO, this specially simplified version of MiG-23 is the only one cleared for export. This example is one of 50 serving at El Adem with the Libyan Republic Air Force, and photographed by a passenger in a Western airliner. Very similar aircraft in service with the Soviet Union created an excellent impression on a visit to Finland in 1978. They carried no missiles, laser or doppler.
Right: Taken from a Soviet film, this unusual view of a MiG-23S again shows that it is apparently normal to have the wings swept on the ground. According to the US Department of Defense this 'Flogger-B' version is the first Russian aircraft "with a demonst­rated capability to track and engage targets flying below its own altitude". About 1,000 were in PVO service by 1980,
laser ranger and doppler navigator. ECM and other EW equipment is markedly superior to anything fitted in previous Soviet aircraft, and ap­parently as good as comparable installations in Western fighters (other than the F-1 5).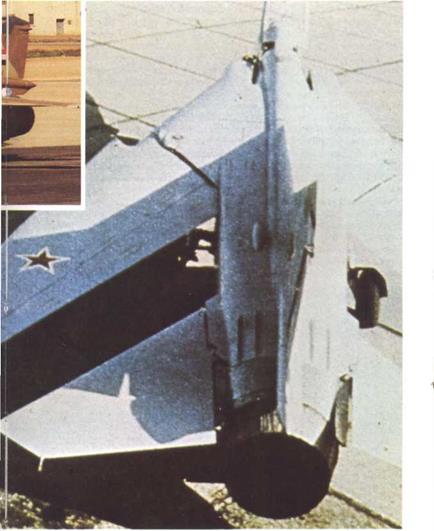 Several hundred S models are in service with the IA-PVO and Warsaw Pact air forces, and they are replacing the Su-9 and -11 and Yak-28P. Missiles are carried on a centreline pylon (which often carries a drop-tank instead), on pylons under the inlet ducts and under the fixed wing gloves (centre section). For overseas customers a simplified sub-type is in produc­tion, with the same high-Mach airframe and systems as the -23S fighter but lacking the latter's radar (NATO calls this model "Flogger E" but the Soviet designation was unknown as this book went to press). The third MiG-23 so far seen is the tandem two-seat -23U, used for conversion training and as an ECM and reconnaissance platform. This again has the fighter's high­speed airframe and systems, but has not been seen with any weapons or delivery systems.