Hindustan HF-24 Marut
HAL HF-24 Mk I, IT and II
Origin: Hindustan Aeronautics, India.
Type: Single-seat fighter and ground attack (IT, two-seat trainer). Engines: Two 4,8501b (2200kg) thrust Rolls-Royce (originally-Bristol, then Bristol Siddeley) Orpheus 703 single-shaft turbojets, licence-made by HAL.
Dimensions: Span 26ft 63ІП (9m): length 52ft Ofin (15-87m); height 11ft 9Jin (3-6m).
Weights: (Mk I) empty 13,6581b (6195kg): loaded (clean) 19,7341b (8951kg): loaded (maximum) 24,085lb (10,925kg).
Performance: Maximum speed, 691 mph (111 2km/h, Mach 0-91) at sea level, about 675mph (1086km/h, Mach 1-02) at altitude: time to climb to 40,000ft (12,200m) 9min 20sec: range on internal fuel about 620 miles (1000km).
Armament: Four 30mm Aden Mk 2 cannon each with 1 20 rounds, retract­able Matra pack of 50 SNEB 68mm rockets, and four wing pylons each rated at 1.0001b (454kg).
History: First flight 17 June 1961: (pre-production) March 1963: (series production) 15 November 1967; (Mk IT) 30 April 1970.
User: India.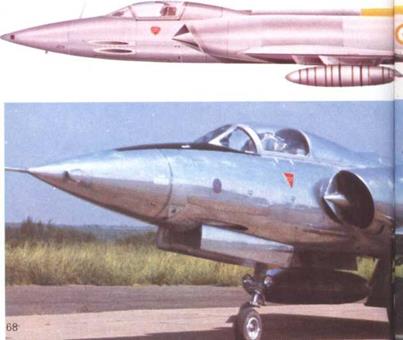 Development: After 1950 the Indian government decided to authorise development of an Indian combat aircraft, and the services of Dipl -1 ng Kurt Tank, the renowned Focke-Wulf designer, were secured to lead a new team formed by Hindustan Aircraft at Banglore. Detail design began in 1956, the objective being to create a multi-role aircraft potentially capable of reach­ing Mach 2 with minimal technical risk. The prototype, powered by two of the same engines already being produced for the Gnat, proved generally successful, and two of the 18 pre-production Maruts ("Wind Spirit")-were officially handed over (though as a token delivery) to the IAF in May 1964, the year the company reorganised and expanded into its present form as
Hindustan Aeronautics. By the end of 1 976 about 100 production Mk Is had been delivered, many of them being used (without loss) in the December 1971 war against Pakistan. The Mk IT has a second Martin-Baker seat in place of the rocket pack and has since 1974 also been produced in small numbers as a dual conversion and weapon trainer. In 1967 the German staff left and an Indian design team has since continued the 20-year search for a more powerful engine. HAL has tested afterburning engines and flew the Marut IBX with one Orpheus replaced by an Egyptian Brandner E-300. but the most likely solution will be the HSS-73 (Marut III) with two Turbo – Union RB.1 99 engines in a considerably improved airframe. Despite obvious handicaps HAL has already created a useful multi-role platform which could carry radar, cameras or other equipment and has reached a satis­factory state of operational development. The Mk III could continue the same basic design to the end of the century.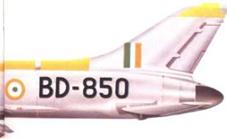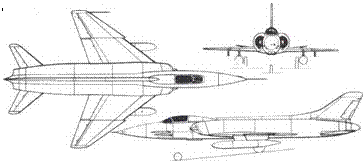 Left: One of the production HF-24 Marut Mk 1 fighter/ attack aircraft, with four guns and underwing drop tanks.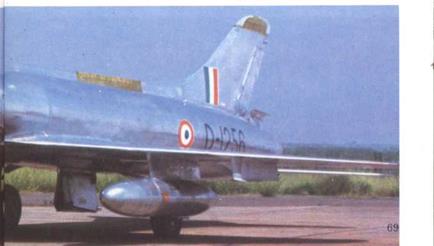 Below: This more recent Mk 1 Marut has noticeably different dielectric (electronics aerial) fairings on the spine and fin, besides having the upper cannon deleted and blanked off.