FMAIA 58 Pucara
IA 50 Gil, IA 58 and Astafan Trainer
Origin: FMA (Military Aircraft Factory), Argentina,
Type: IA 58, tactical attack and counter-insurgency: IA 50, utility transport and survey; Trainer, trainer and light attack.
Engines: (IA 58) two 1,022ehp ТигЬотёса Astazou XVIG single-shaft turboprops; (IA 50) two 1,000ehp Turbomeca Bastan VIC single-shaft turboprops; (Trainer) two 2,7101b (1230kg) thrust ТигЬотёса Astafan geared turbofans.
Dimensions: Span (IA 58 and Trainer) 47ft 6gin (14 5m); (IA 50) 64ft 3iin (19'59m); length (IA 50 and Trainer) 46ft 3in (14-1m); (IA 50) 50ft 2iin (15'3m); height (IA 58 and Trainer) 17ft 7in (5-36m); (IA 50) 18ft 5in (5 ■ 61 m).
Weights: Empty (IA 58) 8,9001b (4037kg), (IA 50) 8,6501b (3924kg); (Trainer) 8,3771b (3800kg); loaded (IA 58) 14,3001b (6486kg); (IA 50) 17.0851b (7750kg); (Trainer) 14.3301b (6500kg).
Performance: Maximum speed (IA 58) 323mph (520km/h); (IA 50) 310mph (500km/h); (Trainer) about 400mph (643km/h); initial climb (IA 58) 3,543ft (1080m)/min; (IA 50) 2,640ft (805m)/min; service ceiling (IA 58) 27,165ft (8280m); (IA 50) 41,000ft (12,500m); range with maxi­mum fuel (IA 58) 1,890 miles (3042km); (IA 50) 1,600 miles (2575km). Armament: IA 58, and optional for Trainer, two 20mm Hispano cannon and four 7-62mm FN machine guns in forward fuselage; pylons under fuselage and outer wings for up to 3.307lb (1 500kg) of stores or tanks. History: First flight (IA 50) 23 April 1963; (IA 58) 20 August 1969; (service delivery of I A-58) November 1974.
Users: Argentina, Bolivia (?).
Development: The unusual but effective Pucara was derived from the larger IA 50 Gil (Guarani II) multi-role transport, noted for its slender unswept wings but sharply swept fin and rudder. The first production batch of Gil's comprised 18 to the Argentine Air Force for communications and seating for up to 15 passengers, four as photo survey aircraft with the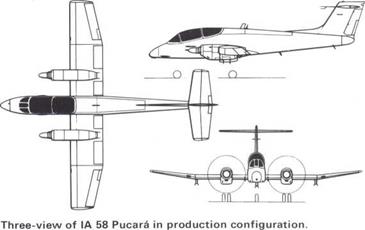 Military Geographic Institute and one as a VIP transport for the President of Argentina. Many others were ordered later, some having ski gear for use in the Antarctic. The smaller IA 58 seats pilot and observer in tandem Martin – Baker ejection seats and is well equipped for all-weather tactical Co-In operations. Deliveries began in 1975 on the first batch of 30 for the Argentine Air Force, with further batches up to a predicted total of 100 being discussed. Interest has been expressed by several other nations in this versatile and cost/ effective aircraft, which can operate from rough strips down to about 2,000ft in length. The Trainer uses the IA 58 airframe restressed to have two turbofan engines on the sides of the fuselage, the twin-wheel main gears retracting forwards into wing pods in the same locations as the engine nacelles on the IA 58. It was expected that this project would lead to a tactical Со-In version, but development has been delayed by inflation.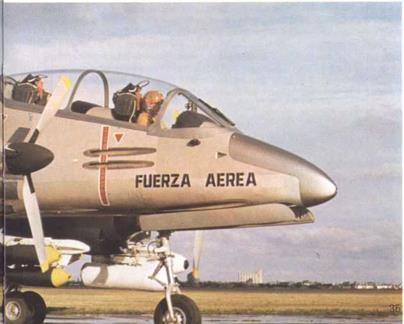 Below: The first production Pucara, which flew in November 1974; about 30 had been delivered by the summer of 1979.