Ukraine closed air space for Russia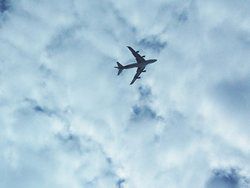 Ukraine closed an air passage for the Russian planes. The Ukrainian prime minister Arseny Yatsenyuk reported about it at a meeting with the prime minister of Slovakia Robert Fitso.
According to Yatsenyuk, the Ukrainian authorities will not pass aircrafts from Russia, which fly to Syria to deliver to the country suffering from civil war humanitarian assistance.
«I gave an assignment to strengthen in the morning to "Ukraerorukh" control with Evrokontrolem about movement of any Russian planes to Syria», – Yatsenyuka quotes TASS.
The Ukrainian prime minister specified that now the air space over Ukraine is closed completely, and the sky over neutral waters "is especially supervised".
The Russian side while officially did not comment on this situation.