Military and aviation and space reverse of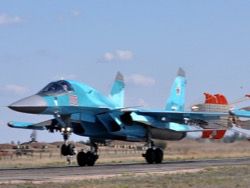 Strictly speaking, in aircraft there is own term "reverse". Distinct from gas turbulences on ring pipelines. It designates the direction of draft of the engine towards plane movement. It is used usually when braking on a runway or at performance of accurate land maneuvers. In the latest space engines the functional of reversive inclusion only is developed. The management of armed forces of Bulgaria managed to achieve "reverse" in maintenance of own aviation park. So "favorable", as reversny supply of gas in one of the countries associated with EU.
The minister of the Bulgarian defense (from common sense) N. Nenchev publicly refused the Russian services in military air service. So it turned out that the Air Force of Bulgaria is equipped with planes of the Soviet production. For 100 %. The country for a long time, since 2004, is a reliable site of the southern flank of NATO. Even builds a boundary wall from even more southern member of alliance (from Turkey) and dexterously refuses gas transit on the territory. To spite of the same Turkey. But protection of the Bulgarian sky is still provided with heritage of a communistic era:
– 12 fighters MiG-21 of construction of the 60th years of the XX century.
– 14 attack planes of Su-25K of thirty-year prescription.
– 19 fighters MiG-29 which have been let out at the end of 80th. Bulgaria received 22 fighters latest for those times MiG-29 directly ahead of Warsaw pact project closing.
For quarter of the century after an exit from the Soviet block the marked planes continued to be maintained by the Bulgarian Air Force. By preparation for the accession to NATO, during this introduction and after full participation in North Atlantic alliance. Brand new "Raptors" or old F-16 Sofia did not wait. The habit to receive aviation equipment free of charge remained in the damned totalitarian past. New сюзерен gifts does not indulge, even for participation in the Iraq and Afghan campaigns.
Certainly, repair work and maintenance of the Bulgarian MiG with involvement of specialists of RAC MiG were periodically carried out. Who will better perform difficult works on ensuring appropriate quality of aviation veterans, if not manufacturing firm? The last major maintenance and modernization Bulgarian MiG-29 are executed by the Russian experts in 2006-2009. The modernized updating in three years 16 cars – that is practically received all Air Force of Bulgaria available on balance.
Now Sofia decided to refuse cooperation with the Russian Federation. To repair, and will serve the Bulgarian fighters in Poland.
The contract of intent between Ministers of Defence of two countries, together with conclusion of agreement about partnership in the military sphere is signed. The Polish state company WZL-2 till the end of 2016 undertook to modernize at once six Bulgarian warplanes. As declared high contracting parties:
«Thanks to strong will to cooperation, we made the important decision … which has big geopolitical value».
As the contract between RAC MiG and the Bulgarian Ministry of Defence in September 2015 expires, to prolong it there is no need. The Russian repairmen will be replaced by the Polish colleagues. Solidarity within NATO понад a mustache.
Each state possesses the sovereign right to dispose of own military property. To get it, to use and modernize, replace with new samples, to send on long storage, to write off in junk and under certain circumstances to resell.
But to order repair difficult and thus very second-hand aviation equipment in the country without own repair base for MiG – the surprising decision. Strong-willed, geopolitical and paradoxical. Approximately as suffocation of South Stream with the subsequent search of power and financial compensations of own sacrifice.
The Polish state enterprise WZL – Wojskowe Zaklady Lotnicze – really has experiment on service and equipment of planes MiG-29. Literally this spring on WZL modernization of a half of all fleet of the Polish fighters of this brand is complete. Here the list of the made works on each fighter:
– The color display in the size 10х12 is established see.
– Three interfaces and one tire of data are replaced.
– The computer of planning of problems of MDP and the computer of collection of information are mounted during flight.
– The radio communication with the earth (the additional radio station with the automatic coding and the new panel for old radio station is established) is updated.
– The navigation system is replaced with EGI with the GPS module, a laser range finder, the digital video registrar, and chambers of the circular review.
Cost of works made $40 million, on 250 thousand dollars on each car. It is internal Polish cost of four-year prescription, the price it will be essential to Bulgaria above. The WZL 2 plant was released for new orders, the Polish authorities provided the new contract.
The most interesting that thanks to replacement of computers, interfaces and a radio communication the Polish MiG increased a service resource at once to… 2028. It essentially exceeds the most optimistical forecasts on use Russian MiG-29. Our country plans their stage-by-stage replacement by MiG-35. All ingenious is simple, it is necessary if to fall to partners in alliance.
Electronics certainly is very important in aviation business. But except electronic, engines, the chassis and the case enter into components of a warplane also. Aluminum, titan and composit materials. Fuel system and own энергоузел. Radar-location, systems of automatic and weapon control, aiming and counteraction to hindrances. Rockets, shells and other arms, at last.
All called and many other components for repair of fighters MiG-29 it is possible приобреститолько in Russia. Bulgaria will buy them a reverse, through Poland. At the rich – the whims. It is necessary to regret for so long tightening of cooperation with the Russian Federation. After all the list of the Bulgarian benefits from reversny repair of old and unique fighters is described long ago in verses of the Soviet poet:
«Two budyonnovsky regiments,
Twenty two armored cars
Thirty seven automotors
Three hundred seventy sappers
Yes shooters four companies
Yes infantry division
Yes tankmen whole regiment
Here what would leave sense!»
P. S. The head of NASA is dissatisfied with cooperation with Russian Federal Space Agency and is indignant with flights of the American astronauts to ISS on "Unions-poputkakh". But to terminate contracts on acquisition of the Russian rocket RD-181 engines and to refuse piloted flights do not hurry even in the USA. Preferring another's poputka to the drawn reusable shuttle.
Probably, for NASA came it is time to agree about flights to ISS with Poland. To strike with a reverse on comic off road terrain and financial sloppiness. To show strong will to cooperation and geopolitical to solve a question by means of faithful allies. With an exit to a circumterraneous orbit by means of reversive and crazy draft.
Dasha Gasanova