Readiness to send an army to Turkey expressed to NATO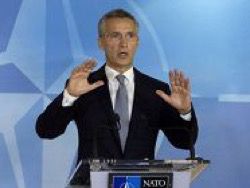 To NATO it is ready to send armies to Turkey in case of need to protect the ally from the threat proceeding from Syria, the secretary general of North Atlantic alliance Jens Stoltenberg reported,
«NATO can and is ready to protect all allies, including Turkey, from any threats», – Stoltenberg emphasized, acting in Brussels before meeting of Ministers of Defence of the countries of NATO.
He noted that the alliance «constantly analyzes a situation together with the Turkish government» and «already increased the ability and readiness for expansion of armies».
«We will continue to remain in close contact to them and we will estimate, whether there is a need for more essential steps», – Stoltenberg explained.
The British Minister of Defence Michael Fellon for its part urged Russia to render pressing the president of Syria Bashar Assad and to urge it to stop drawing of blows on civil objects.
«Situation in Syria is very serious, – the British minister specified. – But actions of Russia do it much more dangerous».
Meanwhile the President of Turkey Tayyip Erdogan also strengthened pressure upon Russia, having declared that Ankara can refuse purchases of the Russian gas of events in Syria and violations of Turkish air space by the Russian planes.
«We are the main buyer of natural gas from Russia. Loss of Turkey will be serious loss for Russia. If necessary Turkey can buy natural gas in other places», – the Turkish president told.
Erdogan also noted that Turkey also can reconsider a question of construction with assistance of Russia the nuclear power plant "Akkaya". «If Russian do not construct the nuclear power plant "Akkaya", someone another will come and will construct it», – he specified.