T-50 there will be on arms in 2017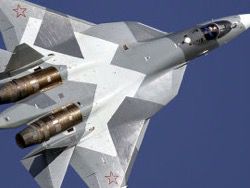 The perspective aviation complex of front aircraft (PAK FA) T-50, the answer of Russia American F-22 and F-35, will be taken advantage in Armed forces of the Russian Federation in 2017, the commander-in-chief of department colonel general Victor Bondarev declared on days off.
«According to the plan we will finish tests next year, and in 2017 we will start to accept T-50 planes», – Bondarev told to the international news agency Sputnik News. In June of the current year during the Parisian air show in Le Bourget the head of United Aircraft Corporation spoke about possible acceptance at the end of 2016 or the beginning of 2017. However now it is known that serial deliveries will begin in 2017.
The prototype of "Sukhoi" T-50 of PAK FA (the name will be changed by production of the fighter) is the multi-purpose hardly noticeable fighter, it copes one pilot and is equipped with the turbojet double-circuit engine. The plane is intended for a gain of an air superiority and differs a small visibility. The first tests passed in 2010. It is supposed that it will serve in Armies of aerospace defense (VKS) of the Russian Federation till 35 years.
T-50 should replace fighters MiG-29 and Su-27, and also to form base for the Russian-Indian joint development of fighters of the fifth generation according to the program «Perspective multi-purpose fighter». However, as it was noted earlier, this project constantly suffers from delays in plans, shortages of means and problems with technologies.
The "Sukhoi" company sent VKS Russian Federation four prototypes T-50, and also two stands for tests. Now fighters are at a stage of intensive testing. Three more prototypes should put by the end of the current year. As a whole Russia plans to make 250 planes of the fifth generation, 55 from which will arrive on arms by 2020.
Last month the director general of corporation «Tactical rocket arms» Boris Obnosov told to journalists that PAK FA T-50 will be equipped with the newest type of H-58UShKE rockets which according to statements of developers are capable to gather speed in 3,5 Moves. «H-58UShKE is at a final stage of development for fighters of the fifth generation, speed of the rocket will exceed 3,5 Moves», – he declared. The new weapon will take place in a plane fuselage.
According to the representative of the Russian defensive industry, T-50 is rather a robot, than ordinary plane, and, allegedly, surpasses in characteristics American F-22. T-50 «it to some extent the robot where the pilot not simply carries out function of control of airplane, but also is an integral part of the car. Its reaction plays large role in a control system», – gives his words RT.
«T-50 not only surpasses all Russian fighters, but also foreign analogs», – he added. As an example the representative compared technologies of a small visibility: «The factor of the reflected surface American F-22 makes 0,3 – 0,4 square meters, at PAK FA T-50 this indicator only 0,1-1 square meter».
Franz-Stephane Gadi