Lest We Forget
The First All-Freight Services
During the Second World War, T. W.A. was involved in many activities that were a far cry from the image of first-class pas­senger service with which the airlines of the early 1940s wished to be associated. As related on pages 44 to 47, the Boeing Stra – toliners were requisitioned for trans-Atlantic military transport duties soon after the bombing of Pearl Harbor in December 1941, and T. W.A. 's experience was put to good use in evaluat­ing the first Douglas C-54s late in 1942.
Responding to wartime demands for rapid transport of sensitive materials, T. W.A. started a Douglas DC-3 nightly cargo service between Kansas City and Los Angeles on 11 October 1943 and followed this with a transcontinental New York-San Francisco cargo service on 15 November of that year. The loads were limited to a maximum of about three tons, but the four-engined Douglas C-54s could carry even ten tons of payload over short distances. T. W.A. opened post-war trans­Atlantic passenger service with that sturdy airplane before the Constellations swept all before them with speed and pressurized comfort in 1946.
The DC-4s were soon relegated to lesser assignments, less demanding of speed or comfort. On 14 January 1947, T. W.A. opened its first international all-cargo service, when the C-54/DC-4 NC79067 Shanghai Merchant, flew from Washing­ton to Lydda, Palestine (now Tel Aviv) via intermediate points.

Ford Tri-motors were retired from passenger service in 1934 and
converted to haul freight in 1936.

T. W. A. 's DC-3s (C-47s) were requisitioned for military cargo work during the Second World War.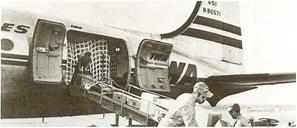 During the post-war years, cargo was still loaded by hand.
Four-Footed Passengers
The "Airline of the Stars," under Howard Hughes's command, concentrated on superb passenger service, as befitting many of the clients (see page 109). But it was not averse to a flexible approach in its choice of clientele. No better illustration of such flexibility was an episode in 1977-78, when T. W.A. responded, with ingenuity, to a special commission from Farhad Azima, of Global Airlines, on behalf of the Shah of Iran. This was for the prompt transport of more than a thousand head of cattle, specif­ically two-year-old in-calf heifers, from Missouri to Teheran, at about $1,000 per head, and to be delivered within 24 hours.
Unfortunately the cows could not make use of the ladies' room. Delicately put, there was "a problem of moisture buildup and waste material." First, cargo pallets were laid on the floor, as shown in the diagram. Standard farm pens were installed, and a specially-designed loading chute made ready. On the ground, special fans were installed as a plane-load of cows generates excessive heat and moisture. Unlike other cargo loads, however, they were able to walk on and off. The air journey took 13 hours, starting on 28 August 1977, and each load consisted of 80 head of cattle. The total average load was 73,500 lb.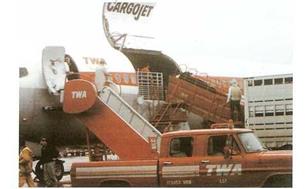 The cows walk on board up the ramp
(photograph series: courtesy Terry VanDyke)