Into the 1970s
New Brooms
The final exodus of Howard Hughes from T. W.A. occurred in 1966 (see pg 73). The big lenders, Equitable Life and Metropolitan Life, now held the pursestrings, taking effect from 1 January 1961, when the voting trust controlled the directions of invest­ment. The crisis was overcome. Ernest Breech, formerly with the Ford Motor Com­pany, took over as chairman on 27 April 1961, Charles Tillinghast having replaced Warren Lee Pierson as president on 17 April. They made a top-level team, respected in Wall Street as well as in Washington. The Lockheed L-1011 program got under way, and service began in 1972. The fleet consisted of 19 Boeing 747s, 104 Boeing 707s, 72 Boeing 727s, 25 Convair 880s, and 19 Douglas DC-9s. The total of 239 air­liners comprised a formidable armada.
Diversification
Back in 1967, T. W.A. had purchased the Hilton Hotel chain, matching Pan Ameri­can's move in buying Intercontinental Hotels. Now, "having lost sight of their objec­tives, they redoubled their efforts." On 12 October 1978, the shareholders approved the organization of the Trans World Corporation, as a holding company for the air­line; the Canteen Company (an on-board catering service, acquired on 10 August 1973); and Century 21 (areal estate organization). A week later, thirteen more aircraft were ordered, including three Boeing 747SPs. On 9 June 1979, this latter aircraft was able to offer nonstop service from New York to Cairo; but this was after, on 2 March 1975, T. W.A. had agreed to a route exchange with Pan American, in which T. W.A. suspended service on the trans-Pacific route, and abandoned service at Bangkok, Bombay, and Frankfurt. The SPs never earned their keep. (See pages 84-85)
Post-Deregulation Oligopoly
The Airline Deregulation Act of 24 October 1978, had been expected to launch new initiatives, mainly with lower fares, for the benefit of the travelling public. About 150 companies applied for certificates from the Department of Transportation; only about a third of these ever started service; and a mere handful lasted more than a year or two. Meanwhile, the big airlines became more concentrated that ever before. After a decade of deregulation, a higher percentage of U. S. air traffic was in the hands of fewer air­lines than when when the industry was regulated by the Civil Aeronautics Board. Meanwhile, TWA tightened its belt. The early 1980s witnessed a period of Survival of the Fittest, as the competition was frequently almost self-destructive. T. W.A. survived, but at a cost. On 1 September 1983, all salaried personnel and management accepted a 10% pay cut, and on 30 November ALPA, the Air Line Pilots Association — nor­mally involved in seeking pay increases — took a similar reduction.
Divorce
On 1 February 1984, Trans World Airlines once again became a separate corpora­tion, when it was broken clear from the parent company, which had been established on 12 October 1978 —just in time for Airline Deregulation (see above). Other units of the Trans World Corporation were profitable, unaffected by the changing regula­tory scene. But T. W.A., out of whose heritage the conglomerate had sprung, now "suffered from lagging sales, high debt load, and high operating costs." The omens in the mid-1980s were not good.
LaMott T Cohu After Jack Frye resigned in February 1947, after a disagreement with Howard Hughes, Cohu became president.
During that period, Hughes and the Tool Company controlled T. W. A. affairs. Cohu resigned on 1 June 1948.
Warren Lee Pierson had been chairman and managing director of T. W. A. Internat­ional in April 1947, and came into promi­nence again when he became acting president on 9 January 1958, before Charles Thomas took over (see below).
Carter Burgess became president of T. W.A. on 23 January 1956, after Ralph Damon died on 4 January 1956 (see page 61). Damon had been a good partner for Hughes, but Burgess never even met his chief He lasted only until the end of the year.
Charles Thomas took over the presidency on 15 July 1958, after a hiatus during which T W. A. had been a ship without a sail. He resigned on 27 July 1960, providing the reason for Hughes's ouster by the voting trust (see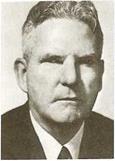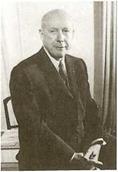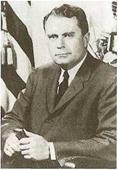 page 73).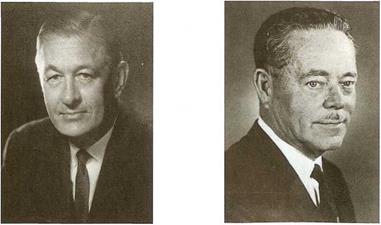 Charles Tillinghast became president of
Trans World Airlines on 17 April 1961, and
was to guide its fortunes for the next two
decades. He was at the helm when the
Trans World Corporation was formed on
12 October 1978.
Ernest Breech was the experienced business
leader, formerly chairman of the Ford Motor
Company, who had taken over the front
office of T. W.A. on 27 April 1961. He and
Tillinghast kept the airline on course.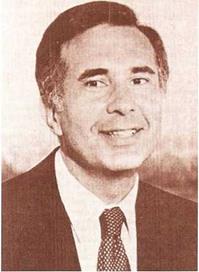 Nostalgic Comfort
That an airline with such a history of pioneering and achieve­ment as T. W.A. to have fallen upon hard times was cause for sadness. Adding up the figures over the course of half a cen­tury, not a single penny of accumulated profits could be iden­tified in the true sense of the term. Yet the airline had sponsored new generations of aircraft (of which the entire industry benefitted). Perhaps another fascinating connection with technical progress is to trace T. W.A.'s record of its con­nection with the motion picture industry.
Hand-Cranked
Not long after T. W.A.'s ancestor, Transcontinental Air Transport (T. A.T.) started coast – to-coast service in July 1929 (see page 24), an announcement in the showbiz publi­cation Billboard of 19 October stated "Last week the T. A.T. ship leaving Port Columbus, on its westward hop to Waynoka, carried projection equipment, a program of Uni­versal Pictures, and an operator. The show was given during the flight to Waynoka and again on the second hop of the trip between Clovis and Los Angeles." The projector used 16mm film and was set up on a board across the arms of two seats in the back row of the Ford Tri-Motor. The Duograph projec­tor, the lightest on the market, and housed in aluminum, was "of the hand-crank style, altho future installations will prob­ably be motor driven."
The article speculated that this experiment would become a regular feature, but more than 30 years were to pass before the amenity was adopted by the airlines, and T. A.T. s successor, T. W.A., was the prime innovator.
In-Flight Movies
With the wide-bodied aircraft providing more headroom than in the piston-engined aircraft, the airlines had, in the early 1960s, experimented with showing motion pictures, mainly to relieve boredom on long transcontinental and trans-ocean flights. Trans-Atlantic passengers were treated to various types of screen and different viewpoints. Once the idea was promoted, every self-respecting major airline had to have them. Trans World Airlines introduced the first successful permanent system, on 19 July 1961. The movie was By Love Possessed, starring Lana Turner.
Carl Icahn
Like many a self-made man, Carl Icahn did not have wealthy parents. But he had the Midas Touch. He began on Wall Street in 1961, and founded Icahn & Company in 1968 with his own savings and some borrowed capital. His seat on the New York Stock Exchange was worth $150,000. By the mid-1980s, this had increased by 1,000 percent to $150 million. In 1985 he became interested in the airline industry and the opportunities offered by the liberal climate of airline deregulation.
First Overtures
On 9 May 1985, Carl Icahn filed a registration statement with the S. E.C. (Security Exchange Commission) to state that he had accumulated 6,745,000 shares, or 20.5%, of T. W.A. common stock, a process that he had begun earlier in March. A week later, this percentage had increased to 23%, drawing a comment from T. W.A. that this "transfer of control was uninvited and undesirable." The next day, on 15 May, T. W.A. filed suit in the New York District Court, alleging that Icahn was in violation of the federal securities laws. The day after that, the airline filed a petition with the Department of Trans­portation to investigate the fitness aspects of the take-over bid, questioning Icahn's managerial skills and technical abil­ities, regulation compliances, capital resources, and the lack of an operational plan.
Carl's response, on 20 May, was an unsolicited proposal to T. W.A. shareholders of $18.00 per share, and T. W.A. coun­tered on 23 May with a request to the D. O.T. for emergency action, and also sought support in the corridors of political power on Capital Hill. The battle for control heated up. On 28 May the T. W.A. board recommended the pursuance of a better offer, possibly an employee buyout; but lost an appeal for restraint in the New York U. S. District Court. The Circuit Court of the County of St. Louis then issued a restraining order, prohibiting Icahn from acquiring additional shares.
Challenge from Lorenzo
On 13 June, a new player entered the skirmish for control of T. W.A., whose employees and management were now mere bystanders. Frank Lorenzo, whose Texas Air Corporation controlled Continental Airlines and New York Air, announced that he had won unanimous approval of a "definite merger agreement, providing for T. W.A. to become a wholly-owned subsidiary of Texas Air." The offer was $19.00 in cash, plus 14-1/2% cumulative non-convertible preferred stock. On 25
June, Richard D. Pearson succeeded C. E.Meyer as airline president and C. E.O. He was to play a small part in persuad­ing the directors to make up their minds.
Carl Icahn Wins
On 5 August 1985, Icahn renewed his efforts, offering $19.50 cash, plus $4.50 of a 14.5% stock issue. On 13 August, Lorenzo raised his offer to $26.00 per share. But on 7 September he agreed to withdraw, in exchange for surrender­ing the Texas Air Corporation's option on 6.4 million T. W.A. shares for $43 million. This was somewhat reminiscent of Lorenzo's coup in collecting a similar profit when wrestling with Pan American to take over National Airlines.
On 14 June a Boeing 727 was hijacked in North Africa and the aircraft was not returned until 16 August. This was not a way to greet the new owner, who settled into his new occupation, and went through the necessary legal processes to pave the way for a merger agreement between Icahn & Company and Trans World Airlines, consummated on 26 September 1986. He had already made a good move. On 27 February of that year, he purchased Ozark Holdings, Inc., the parent company of St. Louis-based Ozark Air Lines, for $224 million. The story of this Local Service airline, and its valu­able regional route network and fleet, is told in the next six pages of this book