TWA's First Short-Haul Jet Fleets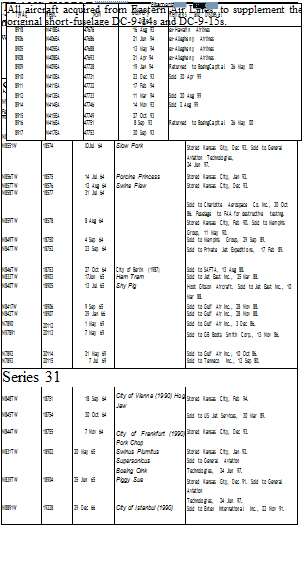 T. W.A.'s BOEING 727 FLEET DOUGLAS DC-9-51 FLEET
This DC-9-31, N990Z, was inherited when T. W.A. absorbed Ozark Air Lines and its extensive fleet (see page 97).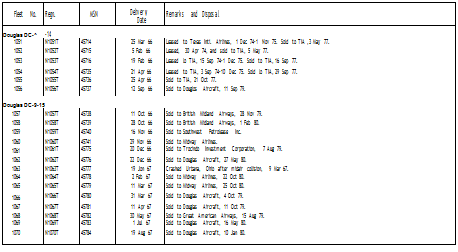 Twin-Jet Choice
On 20 July 1964, T. W.A. ordered 20 Douglas DC-9-14s, plus 20 more on option) at a cost of $86 million, for its short-haul routes. It had flirted with the idea of the French Caravelle in 1962 (see page 74) and no doubt had considered the British ВАС One-Eleven, but it elected to stay with the American version of the twin-jet, a design formula that airline planners considered to be the most economical for short-haul routes.
Development of the DC-9 was rapid. The first flight was on 25 February 1965 and Delta Air Lines put it into service on 8 December of that year. T. W.A. followed soon afterwards, starting New York-Kansas City service with the -14 variant on 17 March 1966—just before Howard Hughes terminated his association with the airline that he had done so much to nur­ture (see page 73).
Not to be outdone—this was during a period when airline traffic was expanding vigor­ously—T. W.A. placed, on 2 September 1966 and 18 October 1967, two very large orders for Boeing 747s, 727s, and 707s, and augmented its order for the Boeing supersonic 2707. The airline was full of confidence, and showed it by a catchy slogan: Up, Up, and Away, with T. W.A.

This early DC-9-14 is seen awaiting take-off at New York's LaGuardia Airport.
T. W.A/S EARLY DOUGLAS DC-9 FLEET
DOUGLAS DC-9-32 FLEET