Martin 404
40 seats • 280 mph
9 AIRCRAFT
The 404 differed visually from its 202 predecessor by the addition of one extra cabin window, and the absence of the cockpit 'eyebrow' window.
| | | | |
| --- | --- | --- | --- |
| Engines | Pratt & Whitney R-2800-CB16 (2,400 hp) x 2 | Length | 75 feet |
| MGTOW | 44,900 lb. | Span | 93 feet |
| Range | 925 miles | Height | 28 feet |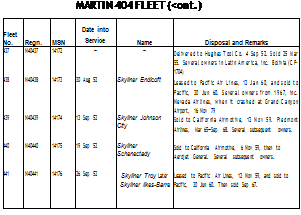 T. W.A. AIRLINERS IN THE POST-WAR PERIOD
Type

Engines

MGTOW (lb.)

Cruise

Speed

Range

Seats

No.

Type

Total Horsepower

DC 3

2

P&W R-l 830

2,400

25,200

165

500

21-

Martin 202A

2

P&W R2800

4,800

42,750

220

1,380

36

Martin 404

2

P&W R-2800

4,800

43,650

220

1,080

40

049 Constellation

4

Wright R-3350

8,800

98,000

295

3,000

60

Tomorrow the World…
The astonishing success of the Constellation and Howard Hughes's association with it was followed by the award of overseas routes to Europe (page 50). T. W.A. had won its spurs across the Atlantic Ocean during the Second World War (page 50). When the airline industry adjusted itself to postwar conditions, the airline consolidated its transcontinental net­work, and entered the world's most competitive air route: between northeast U. S.A. and western Europe. After opening its first Atlantic service to Paris on 5 February 1946 (page 50), T. W.A.'s rapidly-expanding Constellation fleet was soon to be seen in many of the capitals of Europe and as far as the Middle East. T. W.A. reached Bombay on 5 January 1947, and Colombo by the summer of 1953. The aircraft carried the slogan Trans World Airline, and this was formally regis­tered as the new name for T. W.A. On 17 May 1950.
On 25 April 1956, the C. A.B. Examiner approved an extension from Colombo onwards to Bangkok and Manila, where the line would connect with Northwest's trans-Pacific terminal. This would complete the round-the-world service— and challenge Pan American for that achievement. Service opened on 1 October, but was terminated in April 1959, because of dismal load factors on the eastern segments.
Much Changing of the Guard
Still controlling T. W.A.'s fortunes, Howard Hughes was, by this time, facing dissatisfaction within his top management, much of it of his own making. He was increasingly diverted by other interests, mostly of the feminine gender, leaving the day-to-day management to others. In February 1947, his long-time flying associate, Jack Frye, resigned, and took with him chairman T. B. Wilson, and executive vice-presi­dent Paul Richter, who dated back to Frye's Standard Air Lines days in 1929. Lamotte Cohu became president, but effectively Hughes's oil-drilling giant, Toolco, took control. Cohu resigned on 1 June 1948, and Warren Lee Pierson took over.
Things settled down when Ralph Damon was elected president on 25 January 1949. Damon came with formidable credentials (page 61) and for a few years, on Hughes's behalf, he kept the T. W.A. ship on an even keel. They made a good team, and when Damon died of pneumonia on 4 January 1956, T. W.A. went through an uncertain period. Carter Burgess became president on 23 January 1957, but he did not last long, resigning on 8 December 1957, and Warren Lee
Pierson took over once again, only to hand over to Charles S, Thomas on 15 July 1958.
Bracing for the Jets
In spite of the problems of top management, and pilots' strikes in 1946 and 1947, the airline made steady improve­ment, matching the competition both within the States and across the Atlantic. On 1 July 1947, Constellations began a transcontinental night service, with only only stop; at Chicago, in an eastbound journey time of just over ten hours. On 1 October 1948, the "New York Sky Chief' and "Paris Sky Chief' all-sleeper luxury service opened on the Atlantic route. De Luxe service Super Constellations, starting on 10 September 1952, reduced the transcontinental journey time further, and then, on 19 October 1953, the "Ambassador" service offered eastbound non-stop flights in 8 hours. On 1 June 1957, this was consolidated with Lockheed 1649A Star – liner service. In November 1955, the celebrated Denver Case, decided by the Civil Aeronautics Board, gave T. W.A. the authority to stop at Denver en route from Chicago to San Francisco. Overseas, T. W.A. opened a direct Polar Service from California to London on 29 September 1957.
While the airlines were still emphasizing luxury and creature comforts, the balance of air travelling public was changing. The dominance of business travel was giving way to a growing tourist and leisure market. On 1 April 1952, all the members of the quasi-cartel IATA (International Air Transport Association) introduced Tourist-Class fares across the Atlantic; and this was followed by Economy Class on 1 April 1958. As an IATA member, T. W.A. kept pace with the changing fare structures.
Storm Clouds
Possibly because T. W.A. had lost, by Damon's death, an accomplished administrator who could steer it through rough waters, the airline ran into difficulties during the late 1950s. In spite of continued traffic growth and increases in fleet strength, T. W.A. lagged behind in the queue to buy jet air­craft. Pan American Airways had set the world of airlines into a spin on 13 October 1955, when it ordered 20 Boeing 707s and 25 Douglas DC-8s, to launch the Jet Age in earnest (after the British de Havilland Comet had set the pace in 1952, but had paid the price with structural problems). Hughes finally ordered 8 Boeing 707-I20s in February 1956, but showed his preference elsewhere. He ordered 30 Convair
880s (at first called the 600 Skylark), in June of that year, ignoring the other established manufacturers of big airliners, Douglas and Lockheed.
There was a brief flirtation with the long-range Bristol Britannia turboprop (page 59), but the jets were inevitable, and Hughes ordered 25 more Boeing 707s in May 1957. However, the finances were such that even Toolco, once the almost limitless source of capital, needed help. It came from the insurance giant, Equitable Life, which insisted on a long­term financing plan. This was to have long-term repercus­sions on the fortunes of the multi-millionaire owner.
T. W.A. Takes a Gamble
But the show went on. In spite of a company-wide strike in November 1958, the first Boeing 707 was received on 17 March 1959, and put into service only three days later. Facing transcontinental competition from American Airlines, which had started jet service coast-to-coast on 25 January 1959, T. W.A. took a gamble. It operated its New York-San Francisco route for a whole month with only one aircraft; and the fact that that N732TW held out, without a single cancellation, was a great tribute to its engineering staff at Kansas City.
They could never have done it with even the best of the piston-engined airliners. An inspection, at least, would have been necessary, possibly an engine change. But the 707's Pratt & Whitneys held out.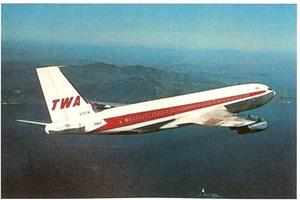 This 707 is seen here climbing out over the entrance to San Francisco Bay.

Artist's Note
The legendary Raymond Loewy designed T. W. A.'s elegant new 'arrowhead' cheatline. Pilots were quoted as saying "The jet looked like it was going 600 mph on the ground!"
The Jet Age Begins
The jet engine, invented by Hans von Ohain in Germany and Sir Frank Whittle in England during the 1930s, was not operational until the closing stages of the Second World War. Most aviation authorities considered that their use would be only for military types because the fuel consumption rate was excessive. But in England, the de Havilland Comet, which first flew in 1949 and went into service with B. O.A. C. in 1952, proved otherwise. The airliner had struc­tural deficiencies, which led to its withdrawal in 1954, but it did prove the viability of jet air­liners in commercial service. The fuel consumption of engines that were designed for economy, not absolute performance, was lower than expected; and the fuel—kerosene, not gasoline— was cheaper. Most important, and not fully realized until the Comet's service record revealed it, was that the turbine engines did not suffer from the wear and tear of the reciprocating piston – engines; and nor did they have the complication of propellers. The TBO (Time Between Over­haul) of the jets grew in unbelievable leaps and bounds; and the positive effect was also observed in the airframes, where rivets stopped popping as excessive vibration ceased.
The United States Takes Over
Americans have always been superb in developing a good idea, whether or not it was invented or innovated at home or abroad. This has nowhere been truer than with jet airliners. Only a few short months after the pioneering Comet was grounded, the Boeing 367-80 made its first flight on 15 July 1954. Little more than a year later, on 13 October 1955, in the order that shook the aviation world, Pan American Airways ordered 45 'big' jets, 20 Boeing 707s and 25 DC-8s. T. W.A.'s first order was placed on 7 February 1956.
The impact of the Jet Age, when first, the B. O.A. C. de Havilland Comet 4 started Atlantic service on 4 October 1958, and Pan Am followed on 26 October, was overwhelming. The Boeing 707 was twice as fast and twice as big as its piston-engined predecessors, so that the productiv­ity was four times as great. Yet the world air traffic demand kept pace, thanks to the introduction of economy fares. The Jet Age had begun, and transformed the world of air transport.
| | | | |
| --- | --- | --- | --- |
| Engines | Pratt & Whitney JT3C-6 (13,500 lb. thrust) x 4 | Length | 145 feet |
| N1GT0W | 247,000 lbs | Span | 131 feet |
| Range | 3,000 miles | Height | 42 feet |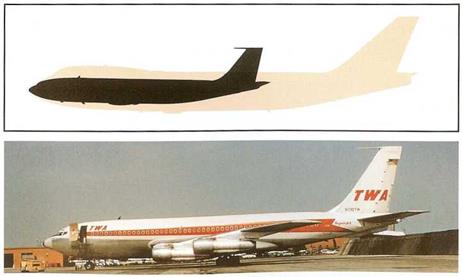 T. W.A. had four Boeing 720s. This variant of the Boeing 707 was 8 feet shorter than the -100 series,
with 14 fewer seats.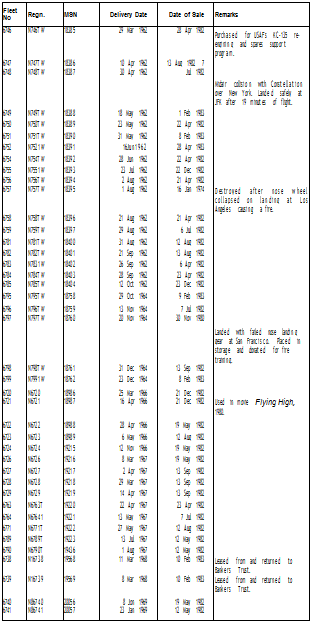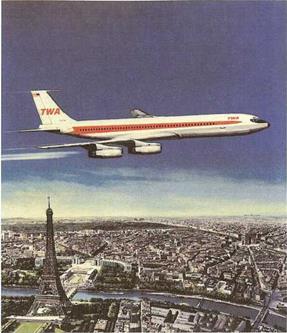 BOEING 707-131
Fleet

No.

Regn.

MSN

Delivery Dat

> Date of Sale

Remarks

7731

N731TW

17658

8 Jul 1959

3 Dec 1971

7732

N732TW

17659

17 Mar 1959

1 Dec 1971

7733

N733TW

17660

30 Mar 1959

2 Nov 1971

7734

N734TW

N16648

17661

3 Apr 1959

9 Dec 1974

Sold to Carbourne Corp., 20 Dec 1971. Repossessed and reregistered, 15 Jan 1973. Sold to Israel Jan 1975.

7735

N735TW

17662

18 Apr 1959

8 Mar 1971

Sold to Air International.

7736

N736TW

17663

29 Apr 1959

8 Dec 1971

7737

N737TW

17664

10 May 1959

15 Dec 1971

Hijacked to Shannon, 1 Nov 1969.

7738

N738TW

17665

13 May 1959

17 Dec 1971

7739

N739TW

17666

28 May 1959

19 Dec 1971

7740

N7401W

17667

28 May 1959

11 Dec 1971

7741

N741TW N16649

17668

13Jun 1959

9 Dec 1974

Sold to Carbourne Corp., 20 Dec 1971. Reregistered and repossessed, 15 Jan 1973. Sold to Israel Jan 1975.

7742

N742TW

17669

1 Jul 1959

6 Nov 1967

Destroyed by fire after aborted takeoff from Cincinnati.

7743

N7431W

17670

10 Jul 1959

22 Apr 1970

Destroyed by fire on the ground at Indianapolis.

7744

N744TW

17671

14 Jul 1959

25 Nov 1971

7745

N7451W

17672

1 Aug 1959

28 Nov 1971
All purchased by Hughes Tool Co. (Toolco) (N731TW – N745TW) and leased to T. W.A. at $2,500 per day. Except where noted, all aircraft sold to Israel Aircraft Industries (IAI)
BOEING 707-124
All Boeing 707-124s ex-Continental Airlines, sold to Israel Air­craft Industries.
* All Boeing 707-13 IB aircraft (N746TW – N86741) sold to Boeing Military Airplane Co., except where noted.
*Two more 707-131Bs, 6760/N760TW (18398) & 6780 N780TW (18399) ordered but cancelled and not built.
BOEING 707-13IB*
This eye-catching painting by artist Ren Wicks, captures the glamour of the early jet age, with a T. W.A. Boeing 707flying (a little off the designated approach path) over the center of Paris.
LOCKHEED 1329 JETSTAR 6