Not tightened nut managed the U.S. Air Force in 60 million dollars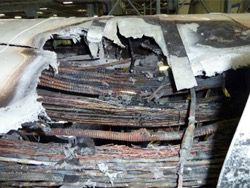 Inspectors understood the reasons of an April fire onboard the prospecting plane of the U.S. Air Force, reports CNN referring to the report published by command of military and air forces of the USA.
The carelessness of repairmen became the reason of ignition which cost to the Pentagon 62,4 million dollars. «Inability of a repair brigade to tighten the lock nut fixing an oxygen pipe with a connecting tube over onboard kitchen, led to leakage of oxygen. The air mix which has turned out as a result ignited», – is told in the document.
On April 30, 2015 the prospecting RC-135V plane tried to fly up from Air Force base in the State of Nebraska, however stopped on the runway middle because of begun onboard a fire. All 27 crew members left a board and remained are safe.
In total fleet of the U.S. Air Force totals 17 RC-135 planes of various updatings. The equipment on their board allows message crew radio-electronic investigation and directly to hand over information to command.