Showing The Flag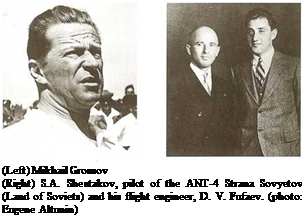 Feeling Its Way
Following the exhausting civil war, Russian aviation had struggled to pick up the pieces of a shattered industry. Carefully, almost methodically, it had begun to rebuild. Between 1918 and 1922, several exploratory flights were made with foreign-made aircraft, Farmans, L. V.G. s, and British types, not only from Moscow but in other parts of Russia and Central Asia. From 16 to 20 September 1922, B. K. Bellint made a round-trip in a Russian-built Junkers Ju 13 from Moscow to the Crimea, and from 20 May to 1 June 1923 flew another Ju 13 to Tashkent, as a prelude to Dobrolet's pioneer­ing activities there (see page 18).
From 10 to 22 July, 1924, piloting an AK-1 — the first successful all-Soviet transport design — A. N. Tomashevskya flew from Moscow to Kazan; and from 29 September to 1 October of the same year, P. Kh. Mezheraup, in a Polikarpov R-l, flew to Kabul, Afghanistan. From 2 February to 8 April the next year, V. Ch. Kopilov, in a Junkers Ju 13, made a 10,400km (6,500mi) round-trip circuit in the northeastern and eastern regions of European Russia. And this kind of activity increased in intensity throughout the year, culminat­ing on 10 June 1925 when six aircraft (two R-ls, two Ju 13s, an R-2, and an AK-1) took off from Moscow to Peking (Beijing), China. Piloted by Mikhail M. Gromov (R-l), N. E. Nadenov (Ju 13), M. A. Volkovoynov (R-l), A. N. Ekatov (R-2), E. K. Polyakov (Ju 13), and A. E. Tomashevsky (AK-1), all six aircraft covered the 6,476km (4,025mi) in a little more than a month, arriving on 17 July. Gromov capped the performance by flying on to Tokyo, via Manchuria and Korea, from 30 August to 2 September.
Circuit of Europe
As if to emphasize that the products of TsAGI amounted to more than drawings and announcements, the Russians began to show their metal in western Europe where, because of the dearth of information emanating from Moscow, foreign politicians, press, and public alike were understandably skepti­cal about reports of aircraft construction in the brave new world of the Soviet Union. On 31 August 1926, Mikhail M. Gromov made a courageous demonstration which was quite literally a proving flight, as it proved to the skeptics that the Russians did have flying hardware.
Gromov took his ANT-3 from Moscow to Konigsberg, Berlin, Paris, Rome, Prague, Vienna, Warsaw, and then back to
Moscow. The Proletarii (Proletariat) completed this European circuit on 2 September, having covered the 7,150km (4,444mi) in 34hr 15min of flying time, at an average speed of 209km/h (130mph) (see map, p. 23).
Across the World
The following year, the ANT-3 made another important flight that must have given encouragement to the design team at TsAGI. On 20 August 1927, S. A. Shestakov flew an ANT-3 (RR-INT Osoaviakhim SSSR Nash Otvet (Our Answer) from Moscow to Tokyo, arriving there on 1 September. The 22,000km (13,670mi) round-trip was completed in 153 flying hours, at a leisurely speed of 144km/h (89mph) and both the pilot and his mechanic, D. V. Fufaev, were awarded the Order of the Red Banner.
Two years later, with gaining confidence, Shestakov made a more ambitious flight, this time with an ANT-4 (URSS-300 Strana Sovyetov (Land of Soviets). Between 23 August and 2 November 1929, he made an historic flight from the U. S.S. R. to the U. S.A., via the Pacific northern rim. As with most long­distance flights, high speed was not the objective. The 21,200km (13,200mi, about the same as the Moscow — Tokyo round-trip) were covered in 137 flying hours, at an average speed of 155km/h (96mph). The twin-engined aircraft was fit­ted with floats at Khabarovsk for the occasion, and the arrival in the U. S. was on Lake Washington, Seattle.
A NT – 4 (Strana Sovyetov – Soviet і Seward 23 Aug-і Nov
Ж V Khabarovsk yje^ ^ Spaasku
YancjyanyA
ANT-3(Nash 0tvet-0ur Answer) t>-®
-D 20 Aug.- 1 Sep. 1927 Okayama TOKYO