OKA-T MODULE
The Russian Central Research and Development Institute of Machine Building (TsNIM) announced that they would develop a free-flying industrial module, designated OKA-T, that would fly alongside ISS and dock to it for servicing, in much the same way as the original European Columbus module had been designed to do. They claimed the module would be launched in 2012.
SOYUZ TMA-10 DELIVERS THE EXPEDITION-15 CREW
| | |
| --- | --- |
| | SOYUZ TMA-10 |
| COMMANDER | Fyodor Yurchikhin |
| FLIGHT ENGINEER | Oleg Kotov |
| ENGINEER | Charles Simonyi (spaceflight participant) |
Two members of the Expedition-15 crew, Fyodor Yurchikhin and Oleg Kotov, along with spaceflight participant Charles Simonyi were successfully launched from Baikonur Cosmodrome onboard Soyuz TMA-10 at 13:31, April 7, 2007. Simonyi, a founder member of Microsoft Corporation, flying under contract to the Russian Federal Space Agency, would return to Earth in Soyuz TMA-9 with Lopez-Alegria and Tyurin, while Williams would remain on ISS, transferring her couch liner and Sokol pressure suit from Soyuz TMA-9 to Soyuz TMA-10, and become the third member of the Expedition-15 crew. Asked, before launch, to describe his role as Commander of Expedition-15 Yurchikhin replied:
"The main goal of our increment will be to continue the assembly of the station and at the same time we have a lot of people who have a very brief spaceflight experience. I have only one spaceflight, Oleg Kotov has no flight experience, Suni Williams has no flight experience, and astronaut [Clayton] Anderson [who would relieve Williams partway through Expedition-15] has no flight experience. We would like to really prove that we are very good crew members compared to our previous colleagues. We would like to continue their good work. So, all of us are highly motivated to complete our personal goals. My personal goal will be to maintain all the crew members' motivation within the goals of the increment, and to make sure all my crew members are working as a team to achieve their personal goals.''
Simonyi had a simpler view of his flight, "I enjoy the whole process of training, and I view the spaceflight as kind of an exclamation point at the end of a very long sentence.''
Following a standard approach and a KURS-guided final approach, Soyuz TMA-10 docked to Zarya's nadir at 15: 10, April 9. Following pressure checks,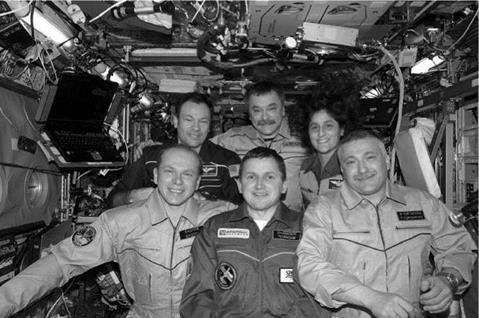 Figure 85. Expedition-14: The Expedition-14 and 15 crews pose together in Zvezda. (rear row) Michael Lopez-Alegria, Sunita Williams, Mikhail Tyurin. (front row) Oleg Kotov, spaceflight participant Charles Simonyi, Fyodor Yurchikhin.
the hatches between the two spacecraft were opened at 16:30 and the three new arrivals transferred to the station, to be received by the Expedition-14 crew. The standard safety brief commenced 10 days of hand-over procedures. High-priority Russian experiment samples were removed from Soyuz and placed in freezers on ISS. Yurchikhin and Kotov would begin working with the samples almost immediately. As with previous spaceflight participants, Simonyi recorded his reactions to space­flight and took swab samples from the station's inner surfaces in support of ESA experiments. He also recorded radiation readings for the Hungarian Space Agency.
On April 11, Kotov set up the ESA Exhaled Nitric Oxide-2 experiment. It would measure the nitric oxide exhaled by EVA crew members before and after their EVAs. The following day was Cosmonautics Day in Russia, April 12, the anniversary of Yuri Gagarin's flight on Vostok-1. Lopez-Alegria spent much of the day servicing the EMUs that the Expedition-14 crew had used for their three recent EVAs. When the two crews began preparing their main meal together, Simonyi produced a package of gourmet French meat, to add to the day's sense of celebration.
Tyurin and Lopez-Alegria spent part of April 14 in Soyuz TMA-9, running through systems checks and test-firing the thrusters. Tyurin also removed the television cameras and lights from Soyuz TMA-10 and transferred them to Soyuz TMA-9 for return to Earth. Two days later, they returned to their Soyuz and spent 4 hours rehearsing re-entry. They also removed the KURS avionics packages from the orbital compartment of the Soyuz and stored them on ISS, for return to Earth on a later Shuttle. Even as the hand-over continued, both Expedition crews maintained their exercise and experiment programmes. Tyurin worked with the Russian Bio­emulsion experiment, designed to produce micro-organisms for bacterial, fermenting, and medical preparations. Later in the week, he worked with the Pilot experiment, designed to measure changes in his ability to fly a spacecraft following a long – duration spaceflight.
Also on April 16, Williams became the first person to run a full marathon in space. Running on the TVIS treadmill, she officially competed in the Boston Marathon, which was being run on the ground at the same time. As a regular marathon runner, Williams watched live television coverage of the marathon as she ran on the treadmill, held in place with a harness to counteract microgravity. She finished her run in just under 4 hours 24 minutes.
The two crews held their official hand-over ceremony to pass responsibility for ISS to the Expedition-15 crew, Yurchikhin, Kotov, and Williams, in Unity, on April 17. During the day the landing of Soyuz TMA-9 was delayed by 1 day, to April 21. The primary landing site in Kazakhstan was too wet following the spring thaw and flooding after heavy rainfall, precluding recovery operations. The 24-hour delay would allow the Earth to turn beneath the spacecraft, resulting in a landing at a secondary site farther to the south.
The Condensate Feed Unit in the Russian sector of the station, which processed water condensate from the American sector and turned it into potable water, failed at the weekend. Over the next week the amount of potable water on the station decreased considerably, but the station still carried sufficient water to last until the Progress M-60 spacecraft delivered more, in May.
After saying their farewells, the crew of Soyuz TMA-9 sealed themselves inside their spacecraft and undocked from the station at 05: 11, April 27, 2007. On ISS, Kotov sounded the station's bell to mark the departure. Simonyi described his feelings at undocking as "bittersweet". Following the standard de-orbit burn, at 07 : 42, and spacecraft separation, the descent module re-entered the atmosphere and landed safely at 08:31. Tyurin and Lopez-Alegrla had completed a flight lasting 215 days 8 hours 48 minutes, a new American endurance record. Simonyi had been in flight for 13 days 19 hours 16 seconds.