CONTINUING THE ROUTINE
With Discovery gone, the Elektron oxygen generator was powered on as ISS was reconfigured for routine operations. It had been powered off on December 10, because Discovery's oxygen supply had been used to support the station during the joint flight. The Expedition crew had a light day on December 20. Monday, December 25, was Christmas Day and the Expedition-14 crew had the day off, before returning to work the following day. They unpacked the material delivered by Discovery, entering it in the computerised inventory, and stowing it around ISS. The crew also resumed their regular schedule of exercise, maintenance, and experiments.
Lopez-Alegria and Williams spent much of the first week of 2007 installing the Oxygen Generation System (OGS) activation kit in Unity. The American system, which would complement the Elektron oxygen generator in the Russian section of the station, was installed in preparation for the intended increase in Expedition crew to six astronauts, following the delivery of extra sleeping quarters in Node-3, by STS-132. The OGS would be activated later in the year. Meanwhile, Tyurin installed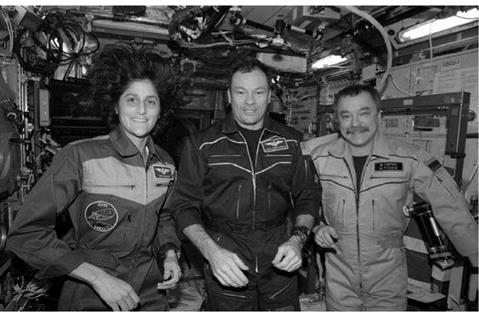 Figure 82. Expedition-14 (L to R): Sunita Williams replaced Thomas Reiter as the third crew member of the Expedition-14 crew. She joined Micheal LOpez-Alegria and Mikhail Tyurin partway through their occupation.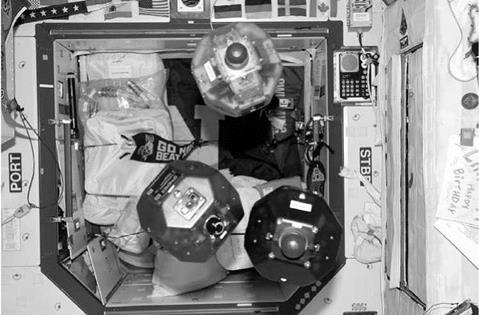 Figure 83. Expedition-15: three SPHERES micro-satellites float in Zvezda during testing.
new fans, vibration isolators, and acoustic shields in the Russian modules in order to upgrade the soundproofing there. During the week the crew installed and ran the first experiments on the Test of Reaction and Adaptation Capabilities (TRAC) experiment, in which they used a joystick to react to movements of a cursor on a computer screen. They also completed the last round of experiments with the European Modular Cultivation System taking the final round of photographs before storing the plants in the freezer for return to Earth.
The crew had a three-day rest period to mark the Russian Orthodox Christmas, before spending the week packing rubbish into Progress M-57, which would be undocked from Pirs at 18: 28, January 16, commanded to re-enter the atmosphere several hours later, where it would be heated to destruction. Progress M-59 would replace it at Pirs' nadir. As the week progressed the crew removed the Robotics Onboard Trainer from Zvezda and relocated it to Destiny, Tyurin repaired and tested numerous pieces of equipment in the Russian modules, and Williams per­formed similar maintenance on American equipment. Automated and hands-on experiments also continued in both sectors of the station.