HOMETOWN HERO
Close on 1,000 miles away from the Cape, in Mitchell, Indiana, Gus Grissom's rail­way signalman father told reporters he had felt mostly fear – "pride ran second" – as his son flew into space and returned to a splashdown in the Atlantic Ocean. Dennis Grissom said that at one point of the flight he became so overwhelmed with a flood of differing emotions he could no longer watch the television coverage and walked into the kitchen away from the grainy images of his son's flight. "It was the longest 15 minutes I ever lived through," he revealed. "You wouldn't realize this unless you had a son up there." However his wife Cecile had endured every tense moment.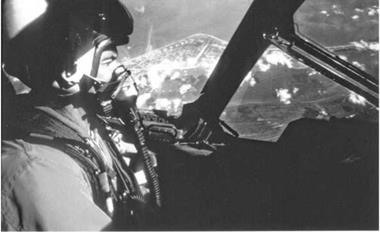 Gordon Cooper flying high above the Cape Canaveral launch site. (Photo: Dean Conger/NASA)
The evening before, the Grissoms had gone on a family picnic with around 40 relatives – "mostly my wife's," Dennis Grissom observed with a smile. But their nerves were still on a brittle edge when they arrived home, partly because their son's flight had already been postponed twice, and then they didn't get to sleep until about 1:00 a. m. Their daughter Wilma Beavers from Baltimore and her children, Rhonda, 12, Joan, 10, and Linda, 9, spent the night with them.
"I just kinda got a feeling they will call it off," Dennis Grissom said of his thoughts before he turned in. Then, at 5:10 a. m. the lights suddenly went on in the little white frame house. Moments before their next-door neighbor, Addie Anderson, fearful the Grissoms might oversleep, had telephoned them. However Dennis said he and Cecile were just about to get up anyway. He then rang a service station across the street and asked the attendant to bring him a pack of cigarettes.
At 5:45 a. m. another son, Norman, a printer on the weekly Mitchell Tribune news­paper, arrived with his wife and their daughter Beth, 8. She quickly paired up with Linda Beavers, and the two little girls went out onto the front porch to blow soap bubbles as if it was just another day in their lives. Five minutes before launch time the adults called them back inside. All the children sat on the floor, with the adults nervously occupying the chairs and couches. The volume on the television set was turned right up.
At the moment of liftoff the roar of the Redstone reverberated from the television set. Not a word was spoken; everyone was tense as the gleaming white rocket slowly soared into the Florida skies and Col. Powers began describing the flight. When he mentioned that the escape tower had been jettisoned, Dennis Grissom stood up and walked into the kitchen, where he stayed for several minutes.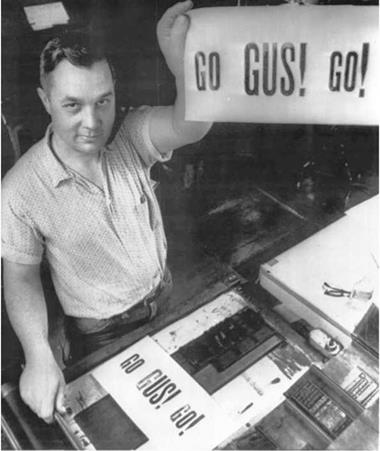 Norman Grissom shows his support for brother Gus. (Photo: Associated Press)
Once confirmation came through that their son had been safely recovered, the Grissoms made preparations to move outside and answer questions posed by the assembled news reporters and photographers. They knew by now that the spacecraft had been lost, but all they cared about was that Gus had survived his flight into space, been rescued from the sea, and was said to be uninjured and well. Dennis Grissom put on the coat of his good blue suit, while Cecile smoothed her blue print dress and brushed her hair. Nineteen minutes after the recovery the family stepped onto the porch, Cecile standing with one hand on her husband's shoulder. A nervous but excited Dennis Grissom folded his hands in front of himself and rocked back and forth on the balls of his feet. On his tie, he wore a clasp in the shape of a Liberty Bell capsule, just like the one their son had flown into space.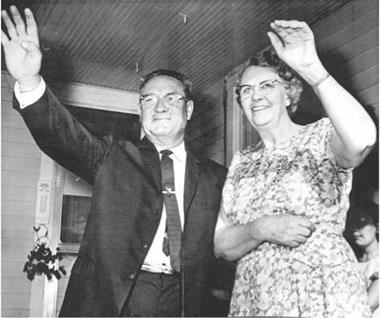 Dennis and Cecile Grissom wave at the crowd gathered around their Mitchell home. (Photo: Associated Press)
The town's mayor, Roy Ira, emerged from the crowd carrying his home movie camera and shook Dennis's hand. Then, like a torrent, came the reporters' questions. Inevitably, the first one centered on how they were feeling
"I feel fine," Grissom said.
"I'm a lot more relieved and I'm glad it's over," Cecile added.
Would they like to see Gus make an orbital flight?
"I think 15 minutes is long enough," Dennis replied.
What about a Moon flight?
"Well, yes. If he can do it safely."
"No. Never," said Cecile.
How did Dennis feel when the space capsule sank beneath the sea after their son had hurriedly evacuated it because the blown hatch permitted water to gush in?
"I was proud he was out of it," was the response. "They can get another capsule…"
A reporter asked whether there were any tears during the flight.
"What do you think?" Cecile replied. "What would you do?"
According to newspaper reports from that day, the Grissoms looked drawn and tired after their son had been plucked from the sea, as if they had been mentally guid­ing Gus all the way. However they soon joined in the post-flight euphoria and took part in a specially prepared parade through the streets of Mitchell just before midday.
They sat in a convertible and waved to everyone as they trailed behind the high school band and the town's fire truck, and anyone else who wanted to fall in. That day it seemed that this little southern Indiana town's entire population of 3,550 was ready to party, and to celebrate America's second successful space flight by one of their own.2