HELICOPTER RECOVERY PILOT
Jim Lewis was born in Shreveport, Louisiana, on 10 November 1936, which he always proudly states happens to coincide with the birthday of the U. S. Marine Corps. His father had served as a Warrant Officer during World War II, "having enlisted by fudging a bit on his age." After the war the Lewis family relocated to Oklahoma City, where his father had taken on employment with the International Harvester Company. Following several promotions and transfers, the family moved once again to Houston, Texas. Here Jim Lewis attended 6th grade right through to high school, later attending the University of Houston, which meant he could live at home and work various jobs while undertaking his studies. During his junior year he joined the Marine Corps Platoon Leader's program. By attending Platoon Leader's Class (PLC) in the summer between his junior and senior years, he was able to be commissioned a 2nd lieutenant on graduation and receive twelve hours of college credits for the PLC program.
While at Quantico, Virginia, that summer he applied for and was accepted into flight school, which he was scheduled to begin after graduating from college. He admits that he had only chosen the Marine Corps because his father had enlisted in the U. S. Army, and like most young people he wanted to do something different. He served in the Far East after graduation from flight school, spending six months in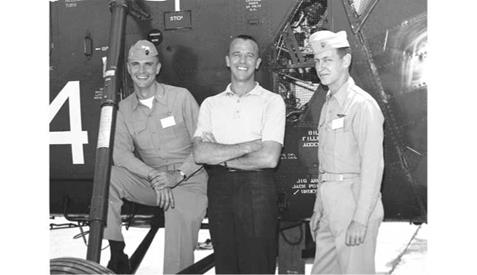 Lewis's Marine buddy Wayne Koons (left) and helicopter co-pilot George Cox flank MR-3 astronaut Cdr. Alan Shepard during a recovery training session. (Photo: Wayne Koons)
Japan and several more on the island of Okinawa, before serving with Marine Light Helicopter Squadron HMR(L) 261 on carriers engaged in supply duties to Vietnam in 1959. However he was not involved in any combat operations.
On his return to the United States he took the advice of Wayne Koons, a friend from flight school, and requested a transfer to the 2nd Marine Air Wing on the east coast at MCAS New River, North Carolina. He opted for this unit because Koons was then involved with the Air Wing in the Mercury capsule recovery program for NASA. Lewis's request was approved, and he later became primary recovery pilot for the MR-4 mission.
"The Marine Corps had been selected [to recover the Mercury spacecraft from the ocean] for several reasons," Lewis told the author. "One was that our helicopters had the payload capacity to lift the capsule. Similar Navy models combined a lot of sonar search equipment that reduced their payloads considerably. In addition, one of the Marine Corps' missions was to deposit heavy external loads in small, tight jungle-type areas surrounded by trees… a task which required a fairly high degree of precision. While most pilots could accomplish this after training, Marine Corps pilots had been practicing it as part of their normal duties for quite a while."
Another factor in favor of the Marine Corps acting as the recovery force was that they operated a base in Jacksonville, North Carolina, which was reasonably close to Langley AFB, Virginia, where NASA's recently formed Space Task Group (STG) was then located.
Lewis was serving in HMR(L)-262 when he first met Gus Grissom at Langley. The astronaut was visiting the STG for a meeting concerned with the recovery of Mercury spacecraft. Asked how well he got to know Grissom back then, Lewis responded, "I didn't get to know Gus really well… there was little personal contact at Langley.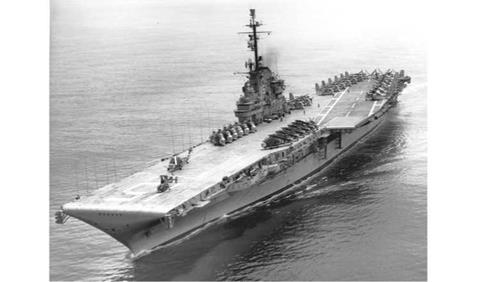 The USS Randolph (CVS-15) at sea in 1962. (Photo: U. S. Navy)
I didn't get to know Gus really well until I was a Manned Spacecraft Center employee [in Houston, Texas]. I think my impressions were like most. Gus was a serious guy, and the more one had the opportunity to work directly with him, the more one appreci­ated how good he was. He worked technical problems well, penetrating to the core, and making sure he and all of us took care of any peripheral concerns. In other words, I really appreciated how comprehensive his work ethic was. I imagine that's one of the things that helped him survive his combat missions in Korea."1
As primary recovery pilot for the suborbital MR-4 mission, Lewis was assigned to the lead helicopter, a Sikorsky HUS-1 Seahorse of the Marine Medium Transport Squadron, and given the transmission call-sign of Hunt Club 1. While in training for the assignment, Lewis and his team practiced for every conceivable scenario, which included the recovery of unmanned capsules from Little Joe booster flights fired out of Wallops Island, Virginia.
As the time grew near for Grissom's suborbital flight, Lewis and his co-pilot John Reinhard from Bloomington, Illinois selected the three best-performing helicopters from their base and flew them to the USS Randolph (CVS-15), the prime recovery aircraft carrier. On the morning of the space flight they test flew all three helicopters to ensure they were at peak performance for the recovery effort.