The Russian aircraft killed tanks of fighters of YOKES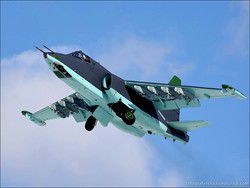 The Russian aircraft destroyed a congestion of armored machinery and tanks on the basis of terrorist group "Islamic state" (YOKES, the organization is forbidden in the Russian Federation) in Syria. About it on Monday, October 5, the official representative of the Ministry of Defence major general Igor Konashenkov reported.
As told in military department, about 30 units of various equipment, including grasped by fighters at the Syrian army T-55 tanks are destroyed. "Six aviation blows as a result of which the equipment of fighters was completely destroyed" are struck to object, – Konashenkov declared.
Besides armored machinery, the Su-24M bombers of Aerospace forces (VKS) of Russia attacked a communication center of terrorists in the Syrian province Homs and their command point in vicinities Ayr-Rastan in the province of the Boor. "Data of radioprospecting confirmed the termination of its functioning", – the speaker of the Ministry of Defence added.
Besides, in the province Idlib Su-24M struck blow to a position of jet artillery of fighters around Dzhisr – эш – Shugur, and attack planes of Su-25 destroyed an artillery point in the area Dzhabel Coba. According to objective control, there was an ignition of equipment and a detonation of ammunition of extremists, three tools and a field warehouse with shells are destroyed.
RIA Novosti news agency notes that planes Su-34 and Su-24М destroyed two storages of ammunition in Homs. In total for the past days, according to the Ministry of Defence, the Russian aviagroup operating in Syria made 25 departures, having attacked nine objects of YOKES.
On Sunday, October 4, in military department of Russia reported about airstrikes on 10 objects of "The Islamic state", including on a workshop on manufacturing of «belts of shahids».
The Russian aircraft performs operation against YOKES in the territory of Syria since September 30. Military act according to the order of the president of Russia Vladimir Putin which received the sanction on use of armed forces abroad from the Federation Council.