A MAN OF FEW WORDS
The late John A. ('Shorty') Powers, former NASA Public Affairs Officer would have agreed with Carpenter's characterization. "Gus is the quiet one," he once observed. "He doesn't talk much, but when he does speak, the words come out in short bursts – like a fighter pilot's measured use of limited ammunition. When he fires off a burst, one had better be listening carefully, because he's only going to say it once and there won't be any surplus words."2
Fellow Mercury astronaut Wally Schirra had a good grasp on the personality of Gus Grissom, saying he brought a vast amount of knowledge and experience into the space program, and his opinions as an extremely capable and competent test pilot and engineer were highly valued and respected. "Gus did not consider himself as the hero type, nor was he impressed with personal prestige. He was a quiet, unassuming, and completely unpretentious person, and his reasons for wanting to participate in this venture were really quite basic. Should the officials at NASA share his belief that he was one of the better qualified people for this new mission, then he was proud and happy to help out. Although Gus was the shortest of any of us chosen in that first group of astronauts, his physical stature did not in any way hinder or inhibit his enormous competitive spirit. He possessed a strong desire to succeed in everything he undertook, and this unbeatable desire to win was matched only by his determina­tion and perseverance to see a job through to its satisfactory conclusion."3
The family name Grissom actually evolved from England and the surname Gresham. According to genealogists the Greshams came to America from Surrey, England, and later chose to distinguish themselves from the loyalists by changing their name to Grissom. The first Gresham to immigrate to America was John Gresham, who, with his wife and son, settled in Arundel County, Maryland in the mid-1600s. For Gus Grissom it was a similarly long and difficult trek from Mitchell, Indiana to flying into space, but his tenacity and a driving urge to go beyond any limitations imposed by others was always an integral part of his character.
Virgil Ivan Grissom was born at 8:00 a. m. on 3 April 1926 in the small mid-western city of Mitchell in southern Indiana, the second child of Dennis and Cecile King Grissom. In a significant and somewhat connective sense, that same day American rocket scientist Robert H. Goddard conducted a second successful launch of a liquid – fueled rocket at his Aunt Effie's farm in Auburn, Massachusetts.
Grissom's father was a signalman for the Baltimore and Ohio Railroad, while his mother was a homemaker. An older sister had died in infancy before his birth, and he was followed in turn by three younger siblings, Wilma, Norman and Lowell. The family lived in a simple, white-frame house at 715 Baker Street (later to be renamed Grissom Street). He took his early education at Mitchell's Riley Elementary School, a short walk from his house, and while he possessed an IQ said to be around 145 he was only an average student and had no real plans for the future. He did, however, become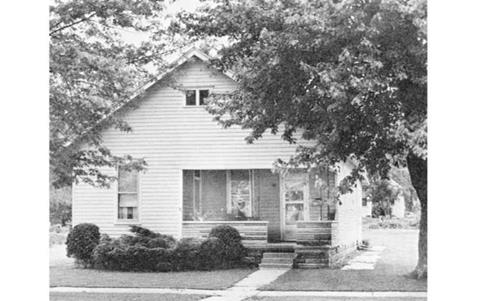 The Grissom home, circa 1968 (Photo: Carl L. Chappell)
Joining the Air Force 57
moderately interested in flying airplanes. "I guess it was a case of drifting and not knowing what I wanted to make of myself," he said. "I suppose I built my share of model aeroplanes, but I can't remember that I was a flying fanatic."4 As a child he attended the local Church of Christ where he remained a lifelong member and later joined Beaver Patrol with the local Boy Scout Troop 46, developing his enduring love of the outdoors.
Every morning, in order to have a little pocket money for his own activities, young Gus would make his way to the downtown bus station and collect that day's edition of the Indianapolis Star newspaper for his delivery route. In the evenings he would also pick up and deliver the local newspaper, the Bedford Times.
In 1940 Grissom was enrolled at Mitchell High School, where he soon found to his chagrin that his short stature precluded him from playing varsity sports. Instead he became a fierce competitor in the school's swimming pool. While he could not play basketball for his school, he took immense pride in being a member of the Boy Scout Honor Guard, which presented the American flag before any games. While engaged in this activity during one game, he caught the eye of fellow student Betty Lavonne Moore, who played the drum in the school band. When he came and sat with her dur­ing the half-time break, Betty realized to her delight that the attraction was mutual. "I met Betty Moore when she entered Mitchell High School as a freshman," Grissom later admitted, "and that was it – period, exclamation point!"5