THE CONCEPTS OF MAX FAGET
Subsequent to the inception of America's man-in-space programs, Maxime Allan Faget was proving to be a key figure in preparing for this bold new venture, which eventually led to his appointment on 5 November 1958 as Chief of the Flight Systems Division of the newly formed National Aeronautics and Space Administration (NASA).
Faget had attended secondary schools in San Francisco and later trained in mechani­cal engineering at San Francisco Junior College. In 1943 he received his bachelor's degree in mechanical engineering from Louisiana State University. Following gradua­tion he spent three years in the U. S. Navy, serving aboard submarines for the remainder of World War II.
Post-war, Faget and his former college roommate Guy Thibodaux decided to seek employment together, which led them in 1946 to contact another university friend named Paul Purser, then working at the Langley Aeronautical Laboratory in Hampton, Virginia, which was part of the National Advisory Committee on Aeronautics (NACA). This was the forerunner of NASA, then based at Langley Field in Virginia. NACA, founded in 1915, was a civilian agency dedicated to aeronautical research and development.
Employed as research scientists by Purser, Faget and Thibodaut were first assigned to Langley's Applied Materials and Physics Division working on rocket propulsion, and were then transferred to the Pilotless Aircraft Research Division (PARD). Here, working under division chief Dr. Robert R. Gilruth, Faget was involved in developing engineering concepts on several projects, including the design of a complete ramjet flight test vehicle. He was also a member of the preliminary design team for the hyper­sonic X-15 research aircraft. Through his prolific talent and determination he was quickly advanced to head the Performance Development branch, where he conceived of and proposed the development of the one-man spacecraft that would ultimately become the Mercury capsule.
Like Faget, design engineer Caldwell C. Johnson from Langley's Technical Services Department enjoyed building elaborately constructed model aircraft – a skill which had been instrumental in landing him the job at NACA straight out of high school. His technical acumen and drawing skills later translated Faget's ideas into working machines. There had been considerable debate in 1956 and 1957 as to whether the United States should attempt to advance the X series of rocket planes in order to carry pilots into space, or whether flying in space would require an entirely new concept. During their lunch breaks Faget, Thibodaux and Caldwell would discuss this at length with others at Langley, and they soon formulated the idea of placing a pilot into an enlarged nose cone atop a rocket and launching him on a ballistic trajec­tory. No one could find a reason why this would not work if a functional parachute system could be developed, as well as braking rockets to bring the spacecraft back through the atmosphere. It was only a concept, and Johnson sketched out a few pro­spective nose cone capsules, but it never got much further than idle chatter among some enthusiastic propulsion and design engineers.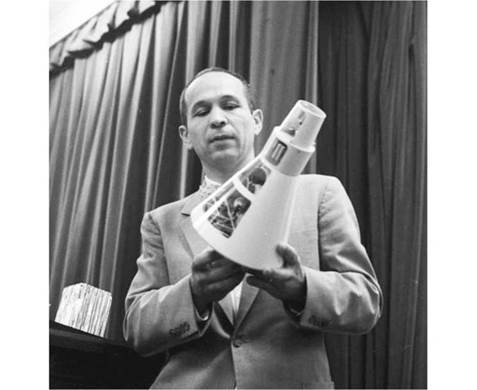 Maxime Faget with a model of the Mercury spacecraft. (Photo: NASA)