As collect a front bomber SU-34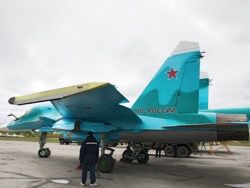 Contours of a bomber remind a huge slope which hid on depth…
I managed to visit on Novosibirsk aircraft factory of Tchkalov (NAZ), branch of JSC «the "Sukhoi" Company where make legendary SU – 34.
On March 20, 2014 Su-34 became the first warplane officially taken advantage in Post-Soviet Russia.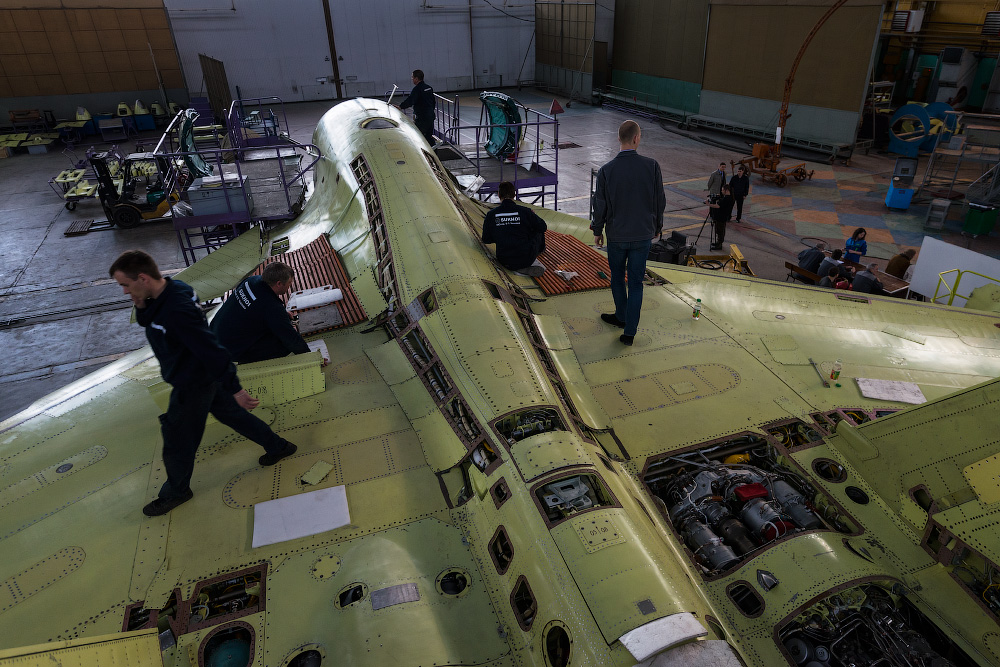 NATO officials call this Fullback bomber ("Defender"), our pilots, tenderly call him "Duckling" and for certain to it there is an explanation. But when this "duckling" being put forward on a vzlyotny strip, passed in 7-10 meters from me, I felt one delight from beauty and power of this steel bird!
That to me reminds this cursor (and it is a cursor from "drying") and remembered, similar units stood on the first aircraft young Skye Walker from star wars when it competed on the first aircraft!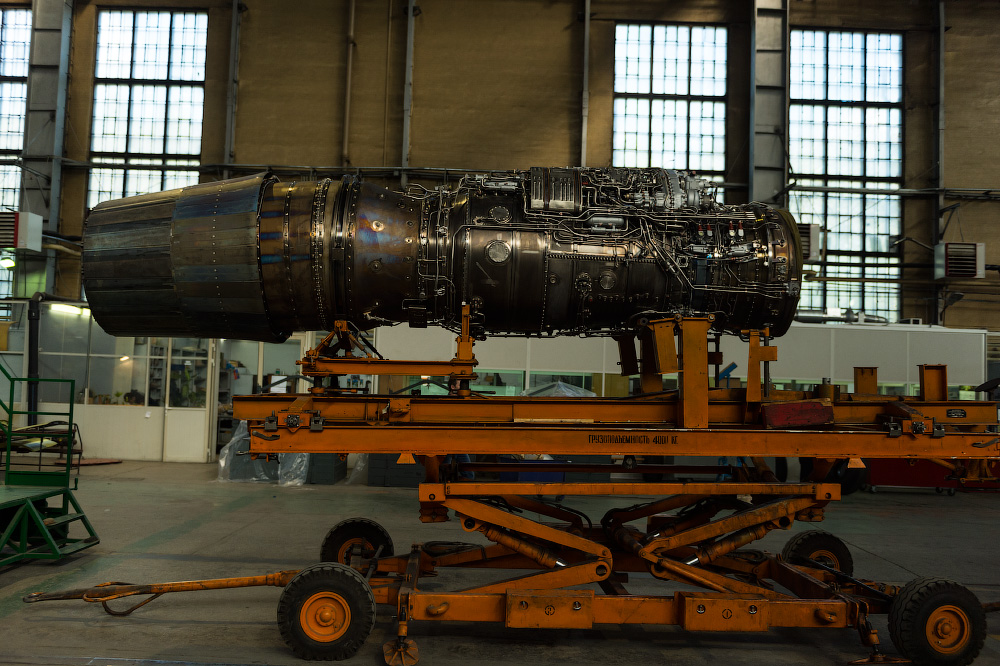 I am not the first time on similar objects therefore habitual conversation on check point, the inventory of the brought equipment and short instructing is not surprising. Then we start to work.
Only ponder, Su-34 contains 57 thousand details, to collect which it is necessary in the correct order. The part of units, for example a cursor, collect not here, and at other plants, in the same place it passes tests, and is transported in assembly shop where it mount in a fuselage.
1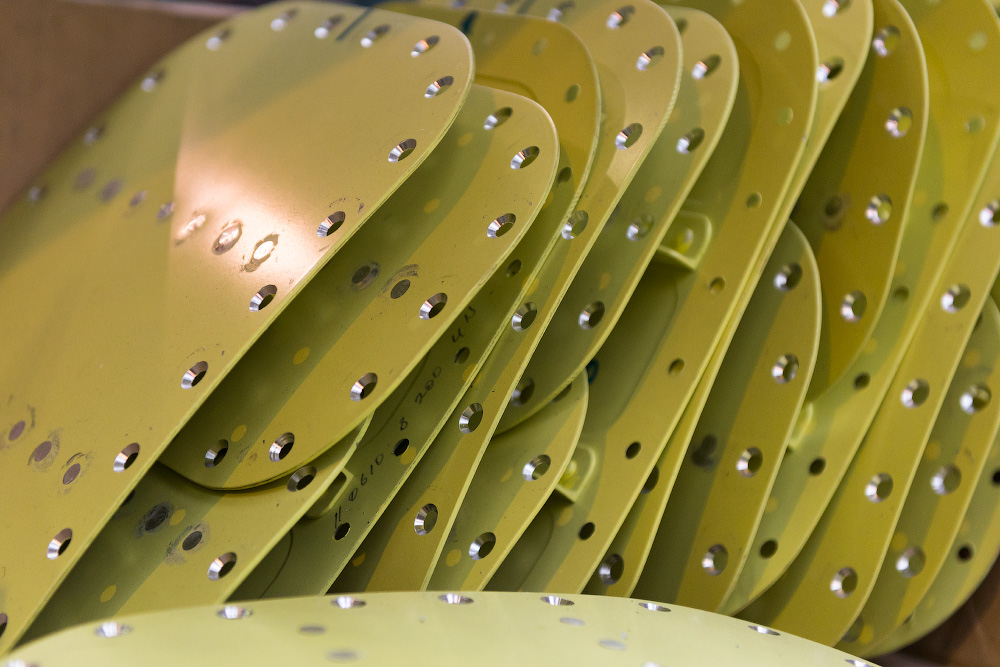 2 We in odiny from many modular assembly shops. The most laborious and tiresome process at a stage of assembly of a fuselage – drilling of openings. Earlier all openings drilled directly on a building berth a manual drill. Now automatic equipment drills previously small openings on the machine, and then on a building berth drill the necessary diameter.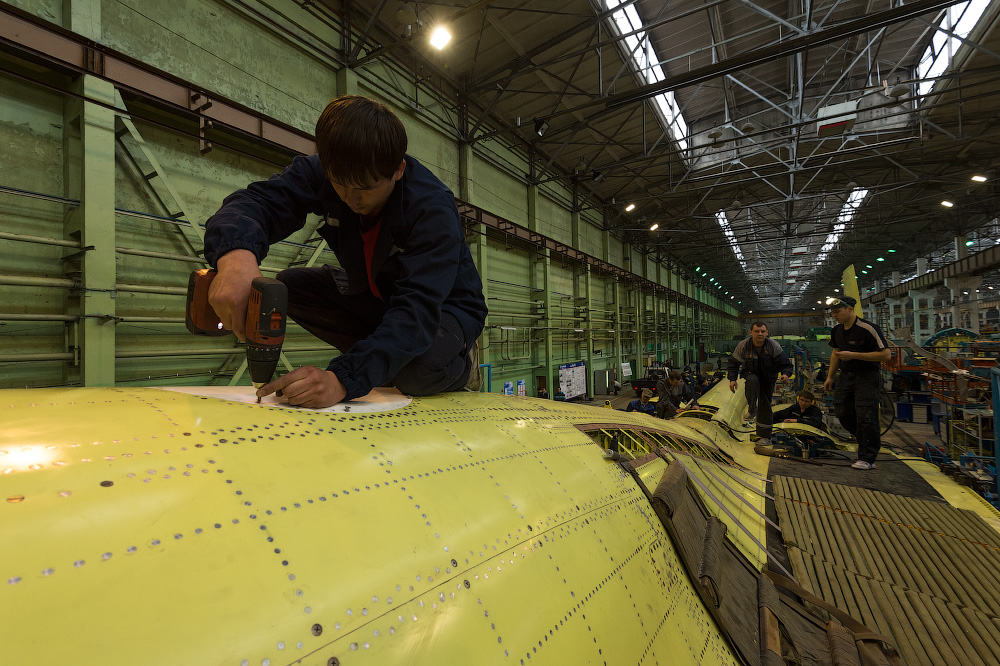 3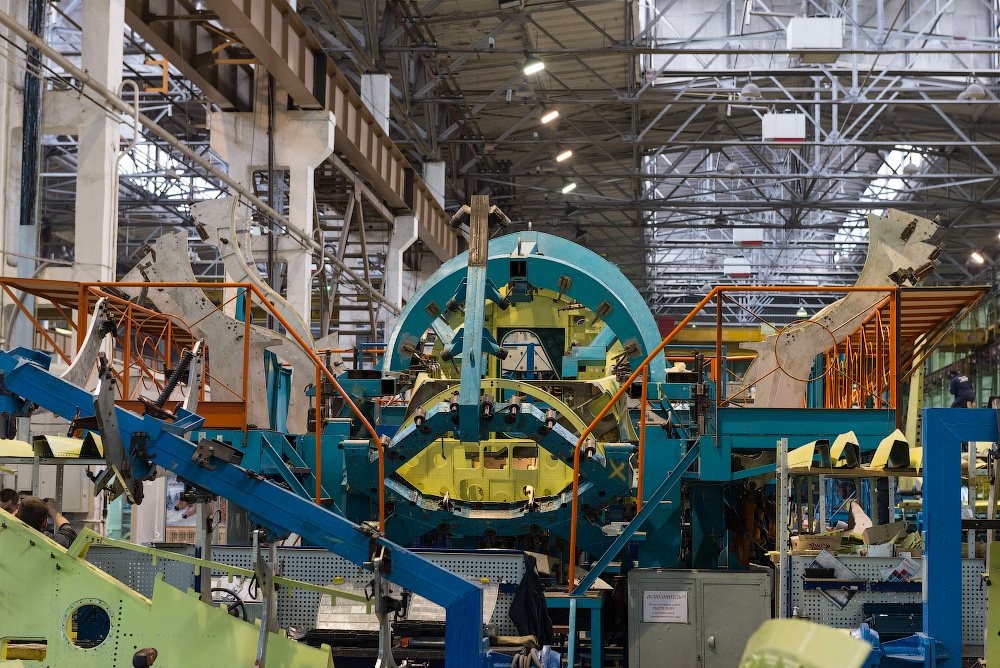 4 Here collect air inlets, and on building berths dock three fragments of future car: head part, air inlet and tail part. 15 people are occupied on this stage.
Excursion with comments to us is carried out by Evgeny Baranov, the deputy chief of shop, from his words it is possible to tell that in this shop the main work, it клёпка, joining and a boltirovaniye.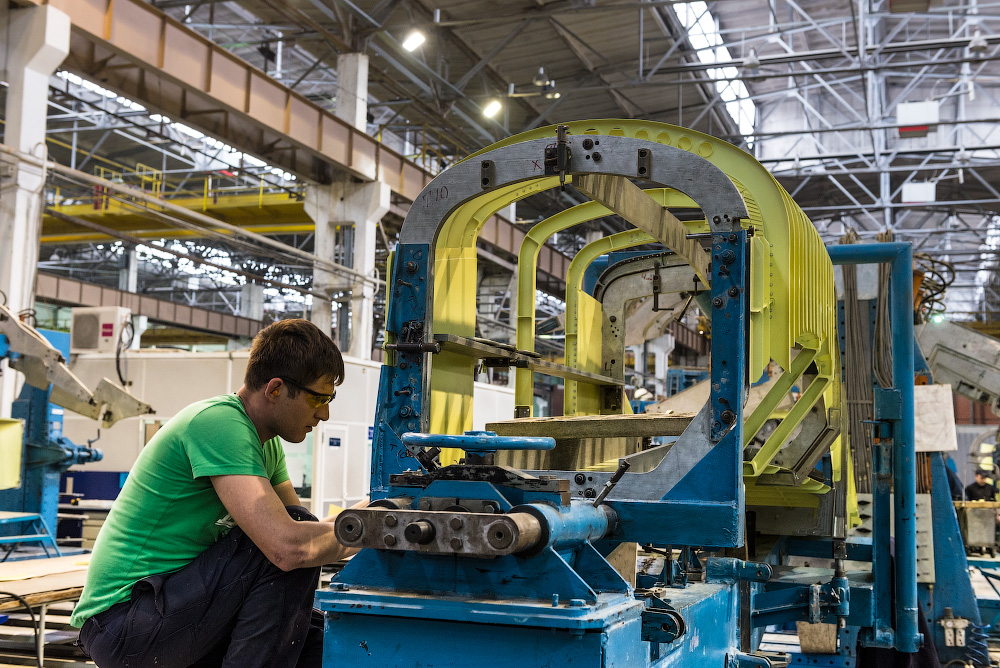 5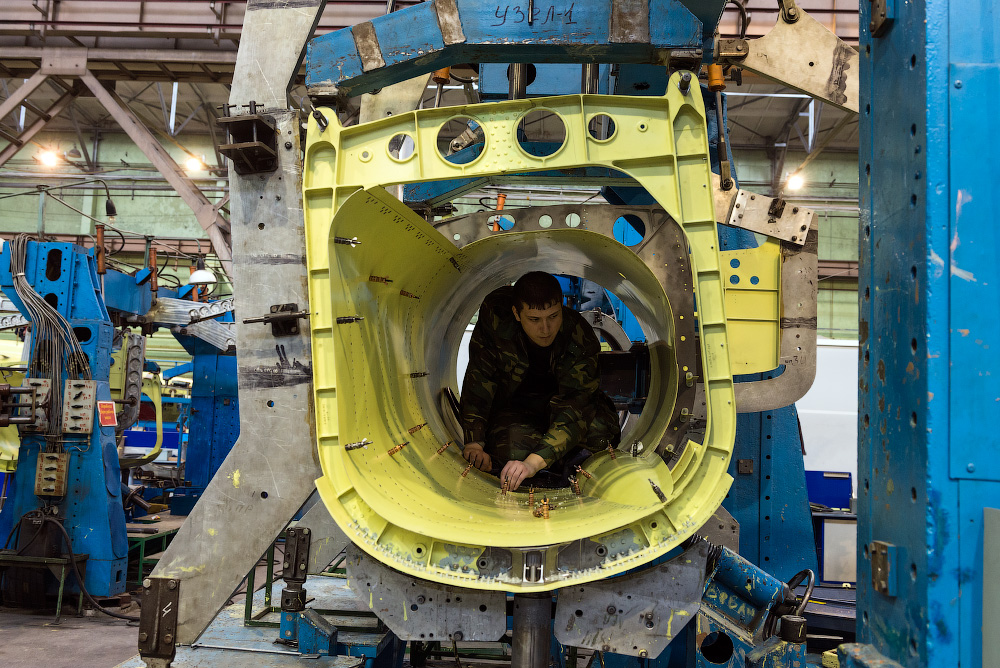 6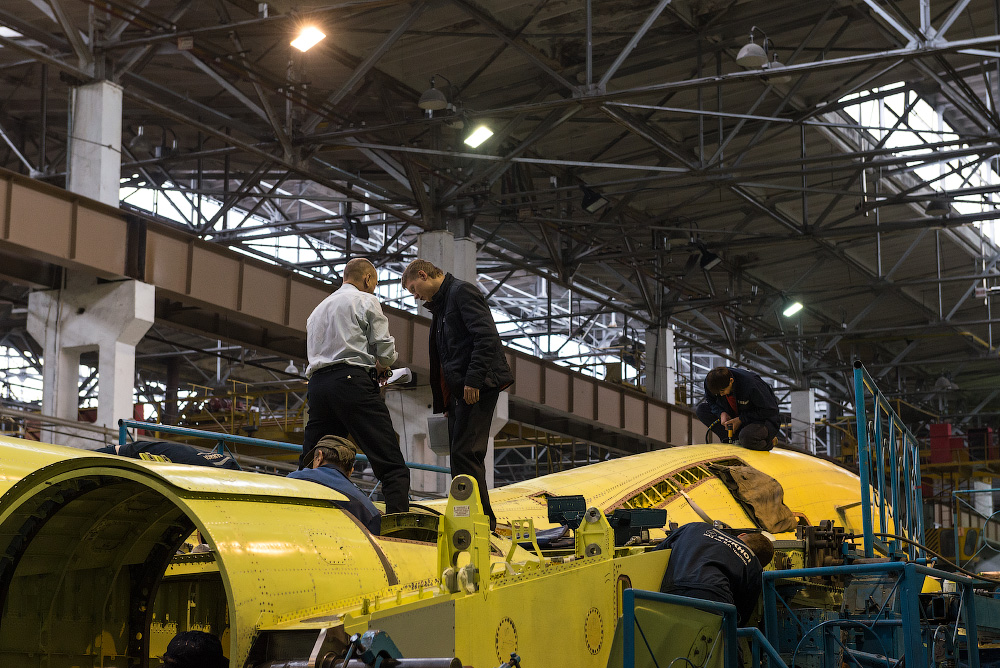 7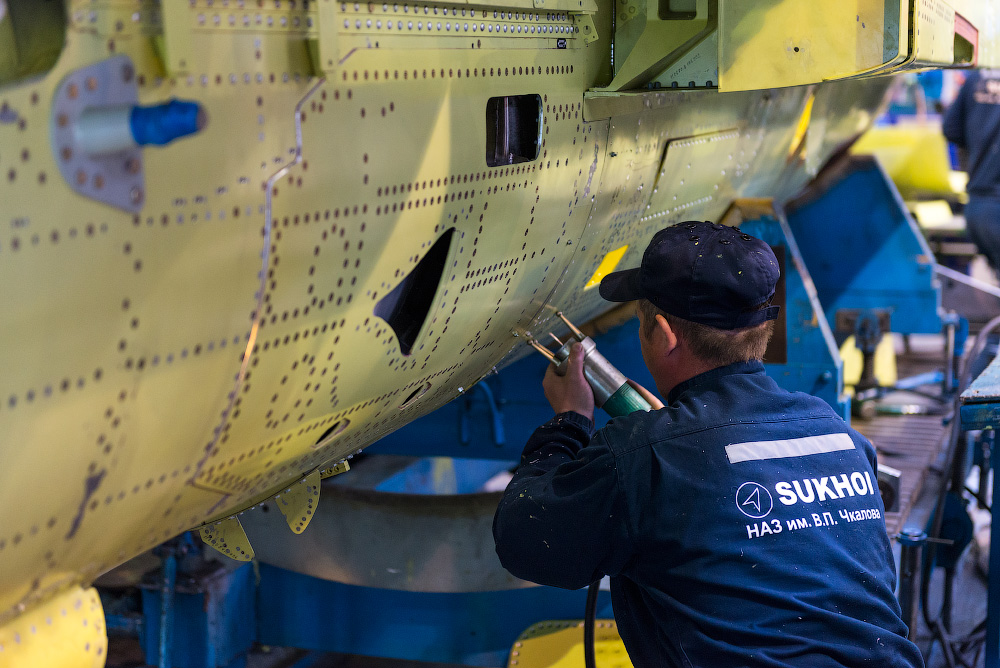 8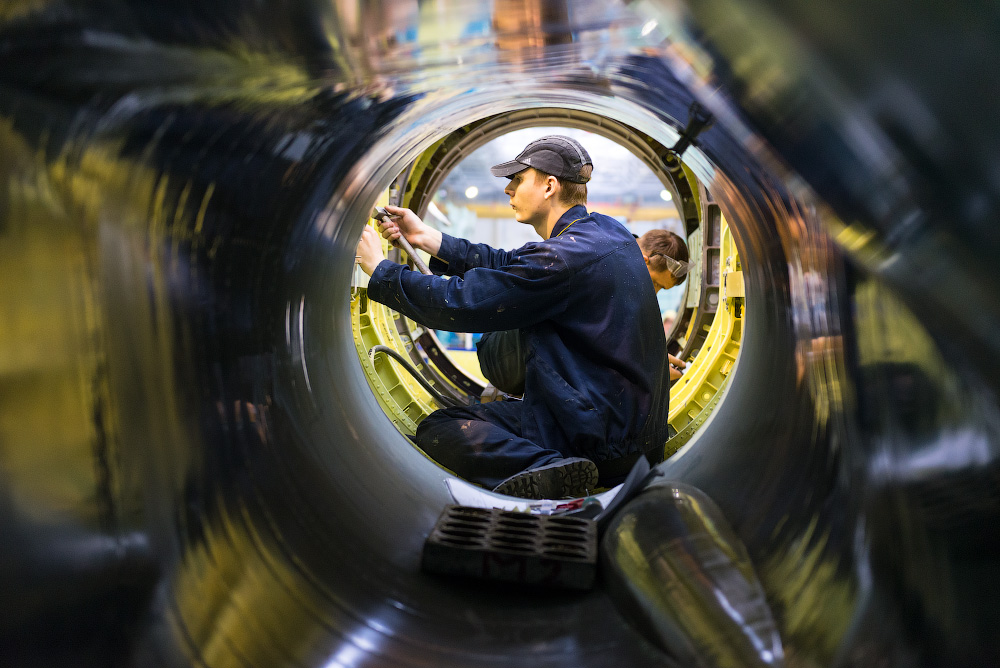 9 Third stage assembly shop the most inetersny – car check on tightness. For the first time I heard such word – overhead irrigation. And a brigade which carries out this procedure, call dozhdevalshchik. It looks actually simply, the car exhaust in enormous boxing and water. The machine design difficult, and not in all places of people can reach. What to exclude mistakes and malfunctions, thought up such counter, enclose special paper, there where it is necessary, then залючивают all car and water. After completion of watering look, if paper became wet, define percent of hit of water and eliminate channels on which moisture got.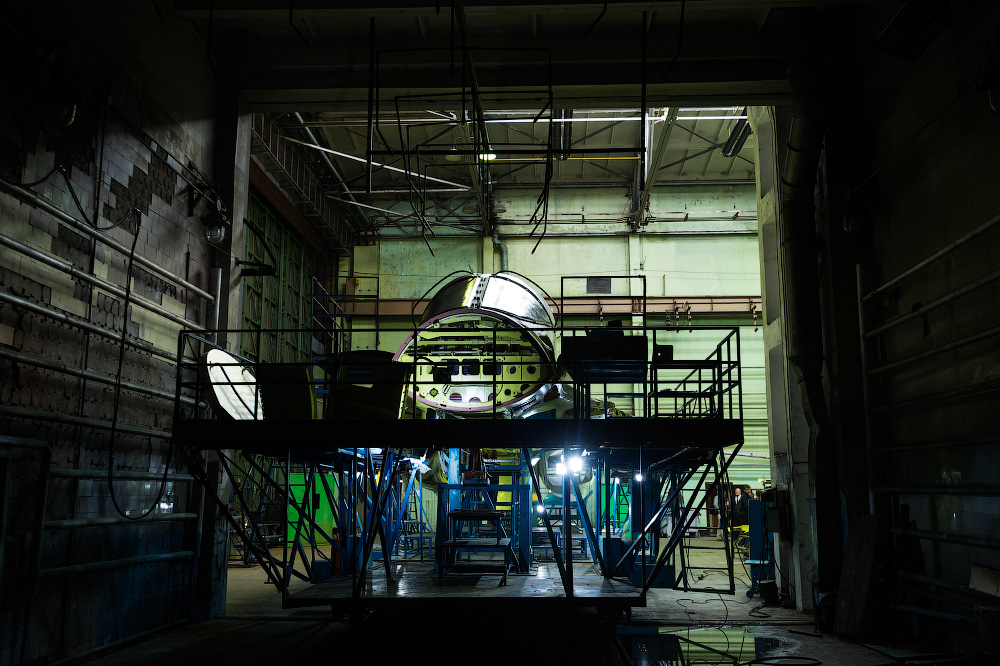 10 We arrived slightly earlier, the car is yet ready to irrigation tests, but here how to be spoken as wrote out the admission.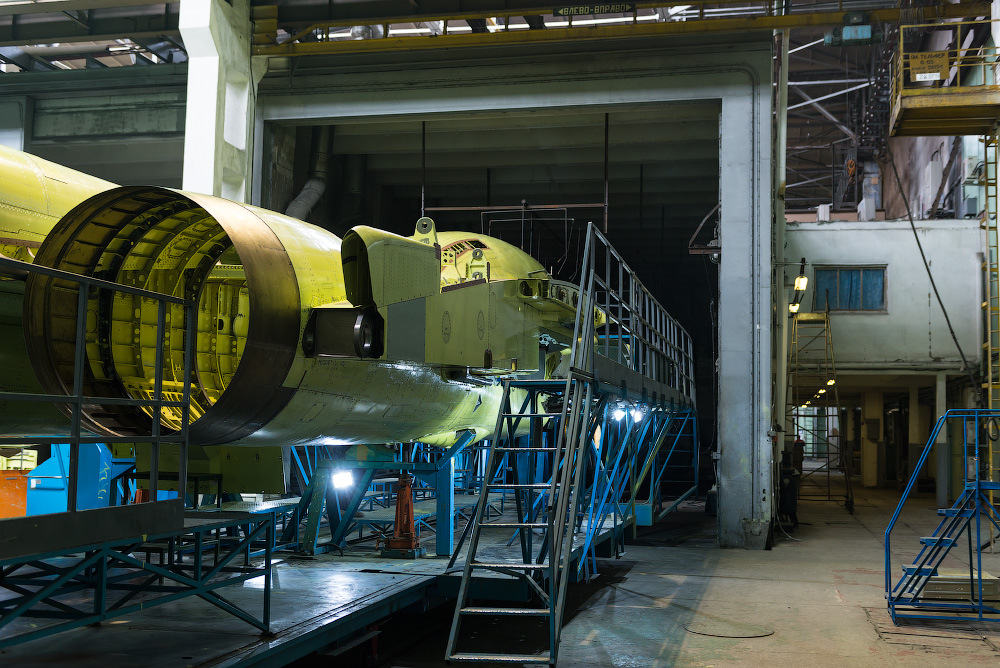 11

12 Wishing to look at assembly shop from above is? With such words one of the staff of shop approached to us. Together with the correspondent from the military newspaper, I climb on a special platform where we were waited by Oksana – the operator of the crane. By means of this crane transport various heavy fragments of a fuselage. Well and we simply swept along all shop.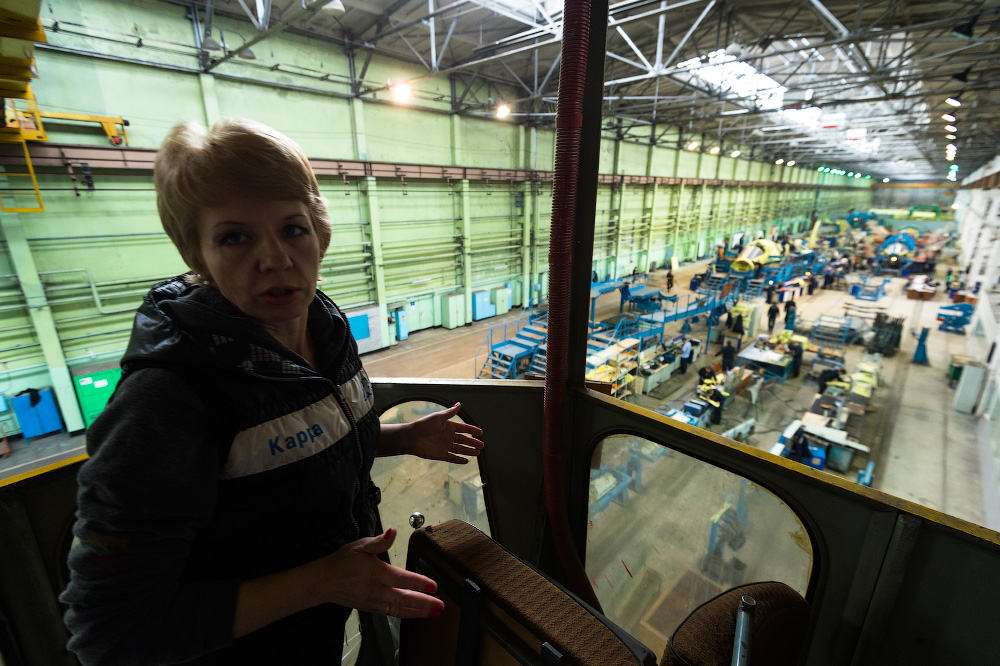 13 Preparation of the case of drying for test for tightness.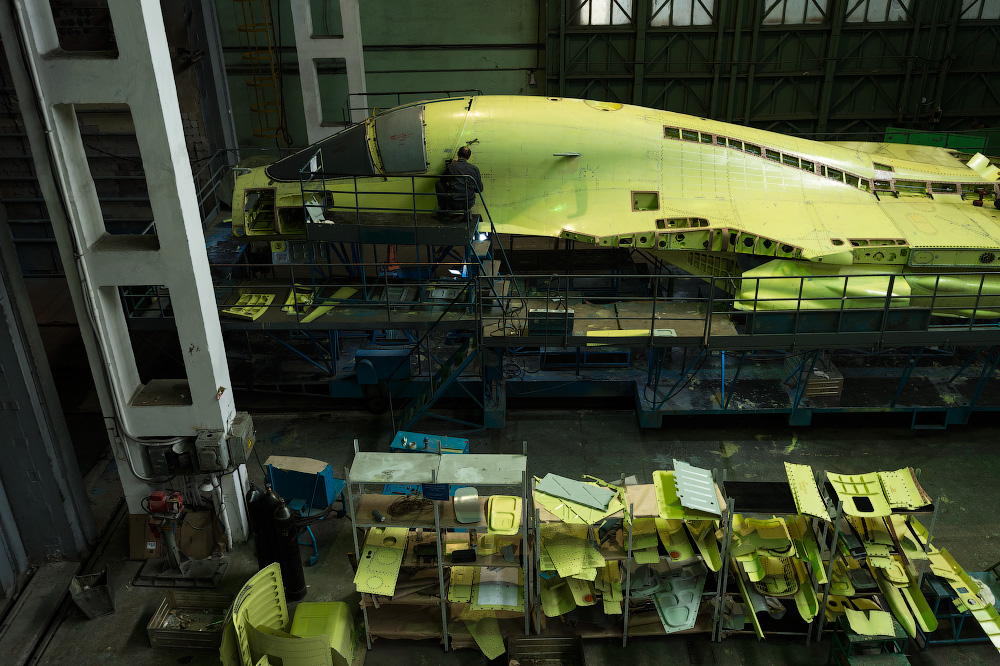 14 In shop at the same time work over several cars. By the way, at the very end of shop, behind a fence, production суперджетов.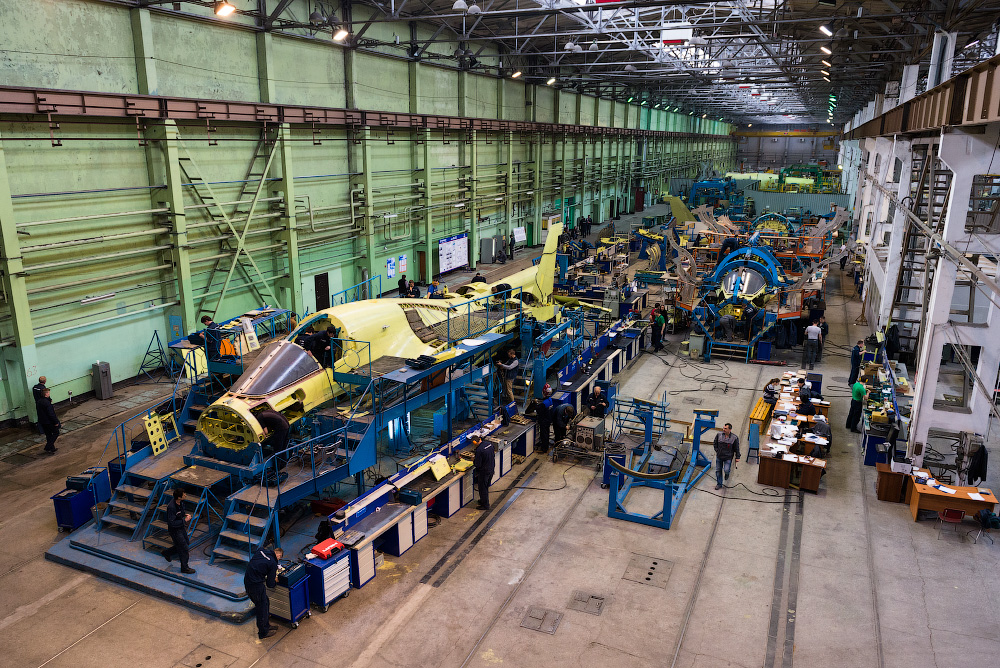 15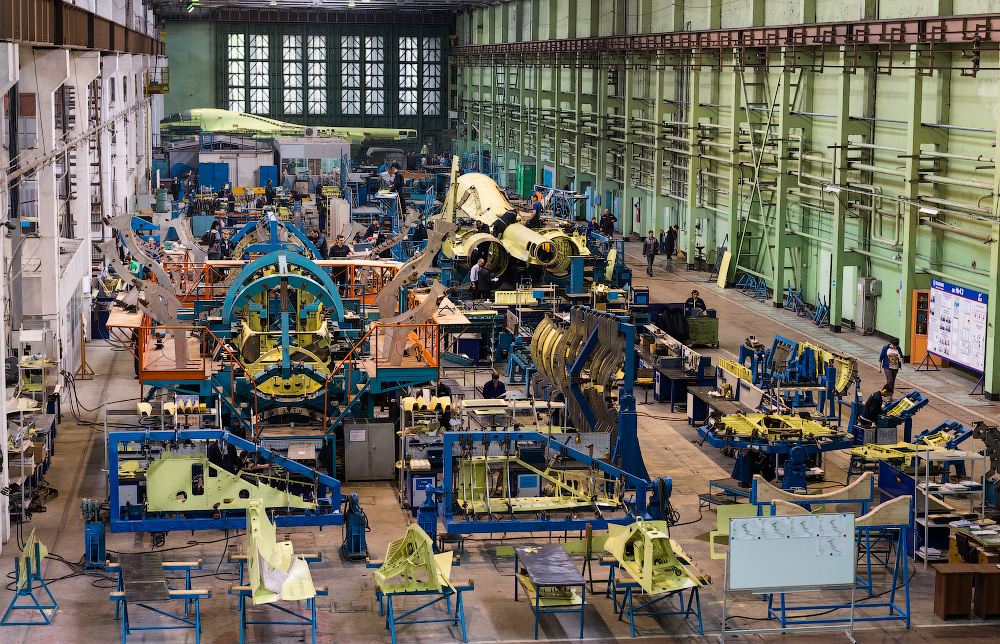 16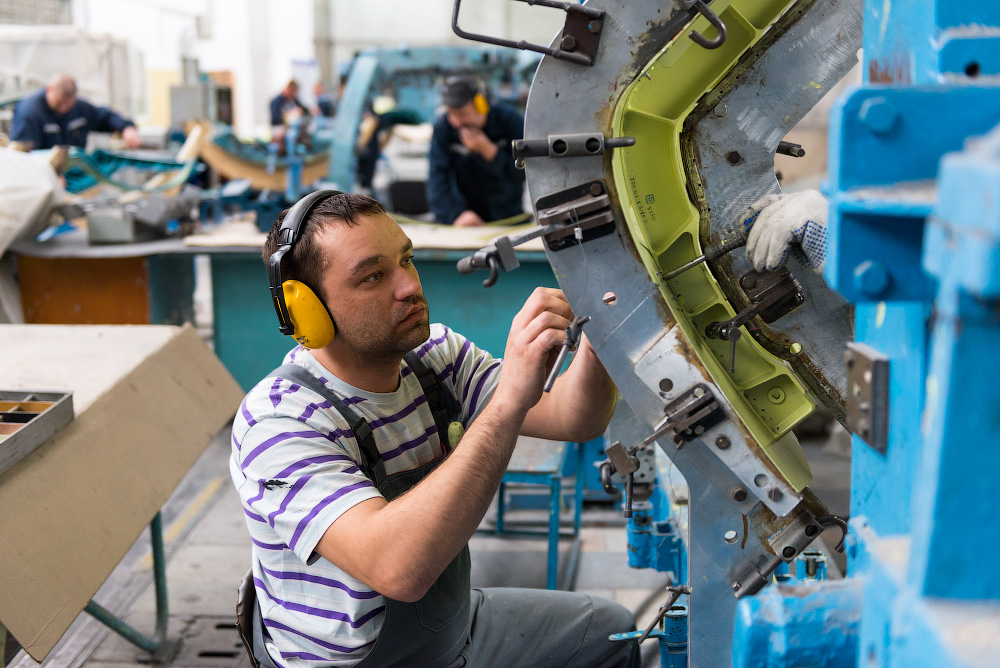 17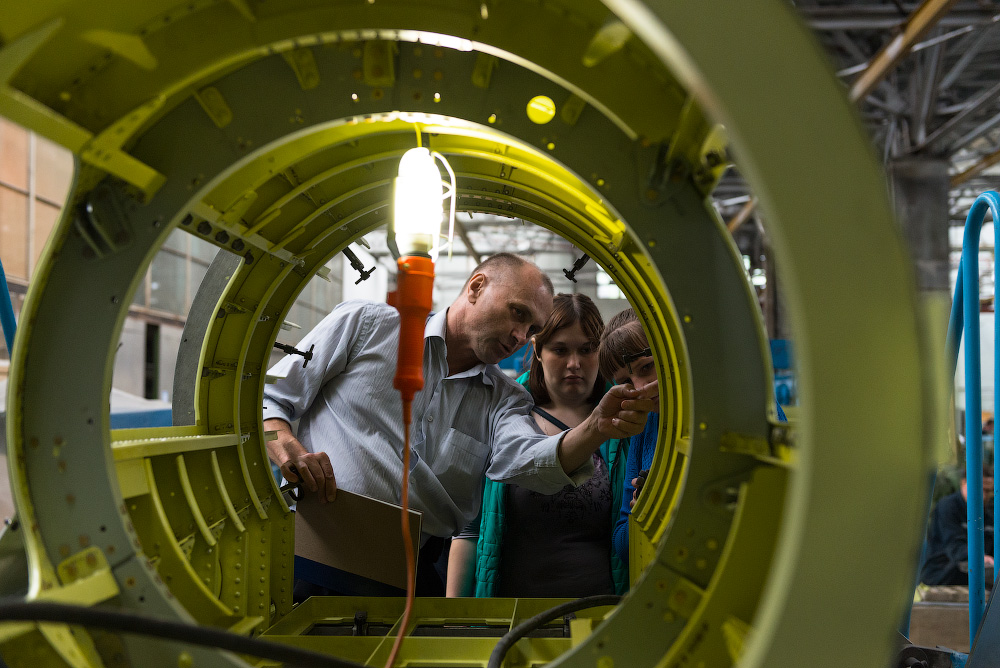 18 Assembly shop where work with wings. The fuel system is right there finished.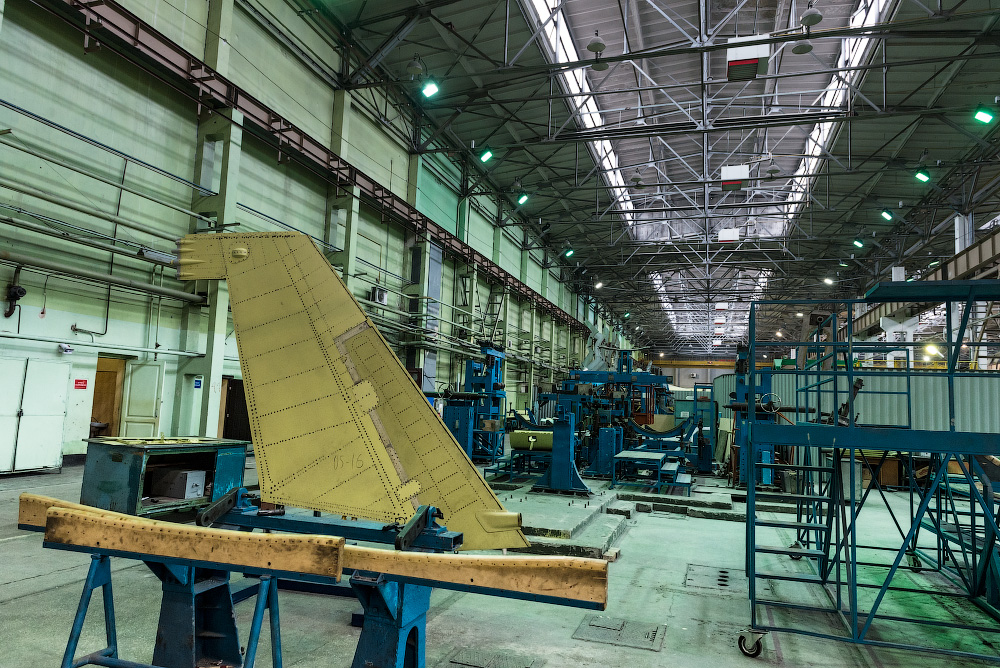 19 Inspection.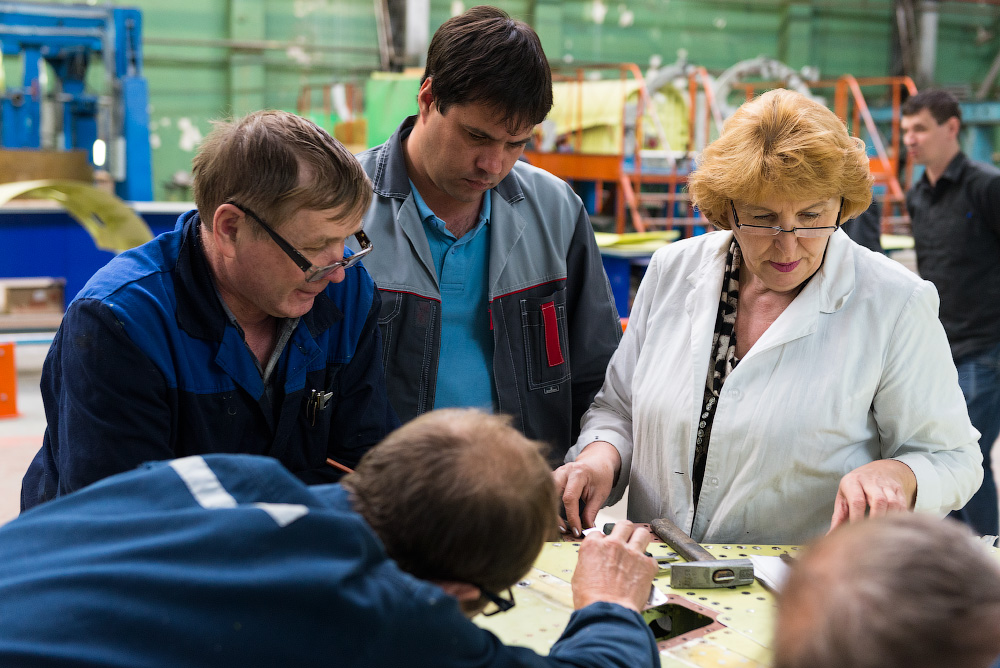 20 Fragment of a fuel tank. Earlier I thought that in the car simply there are usual tanks, well can be any special form caused by design nuances, on the contrary, everything it is much more difficult! The unique system of pumping and pumping of fuel which guarantees was created and is responsible for uniform balance of fuel in all system, and the most important, in all modes of flight SU-34!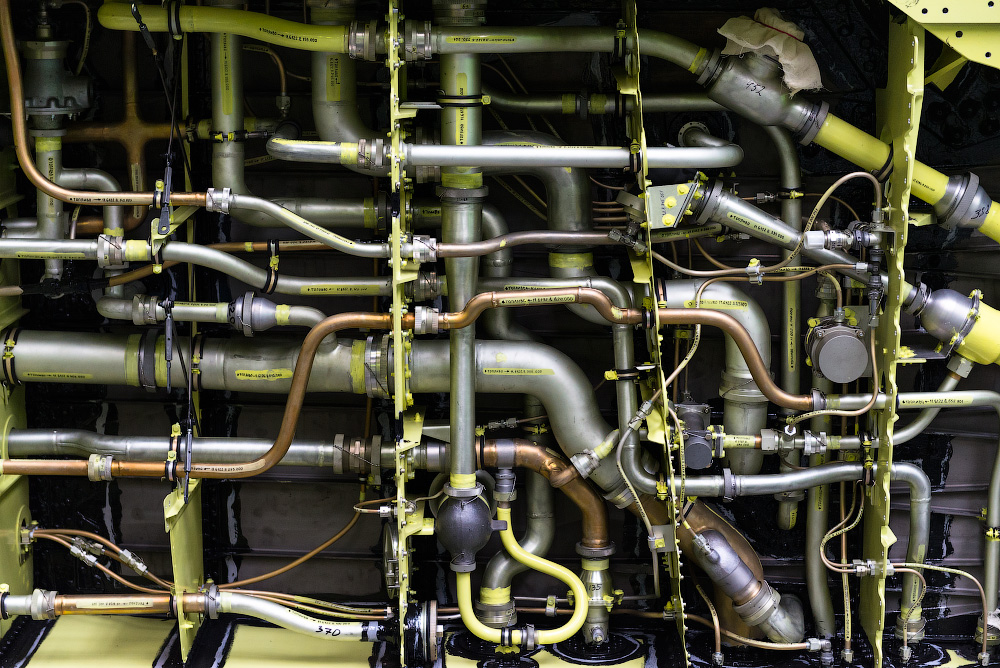 21 Chyustvo of humour, even on such serious production should be present)

22 Working method.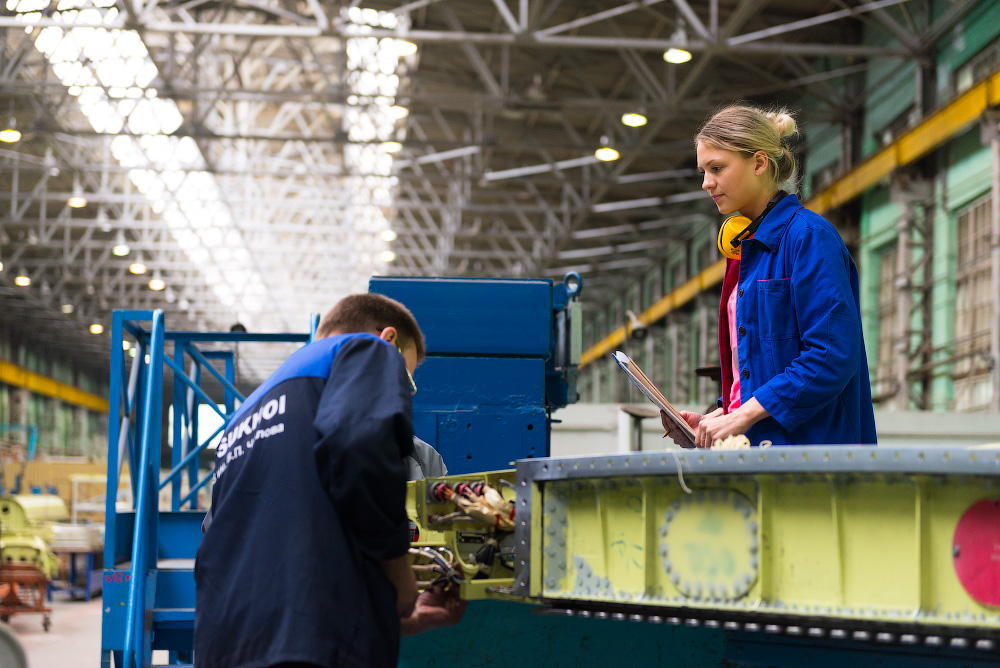 23 Transportation of a fragment of a wing.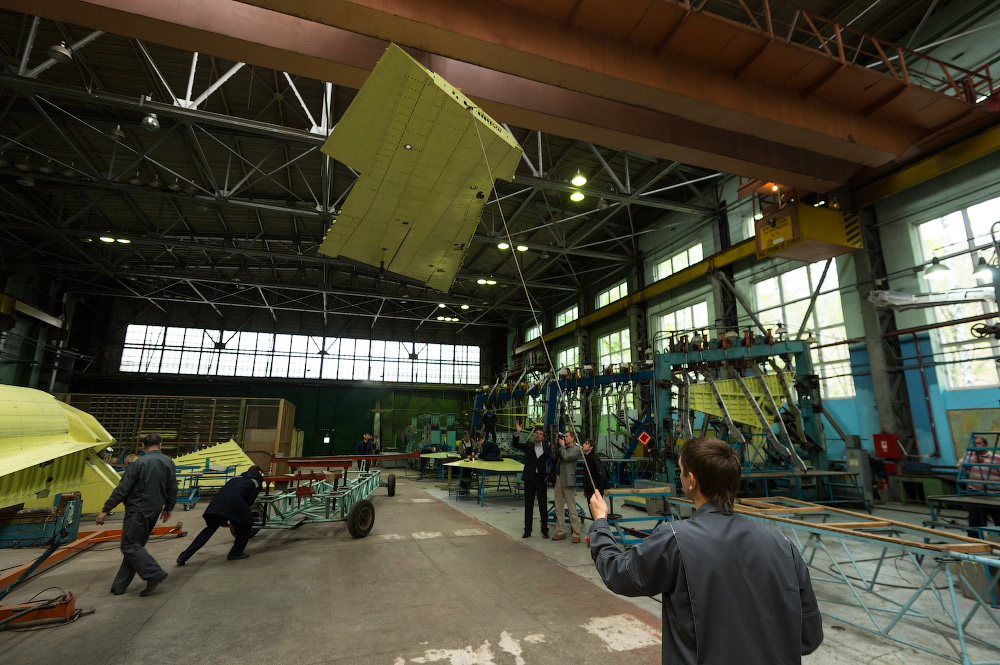 24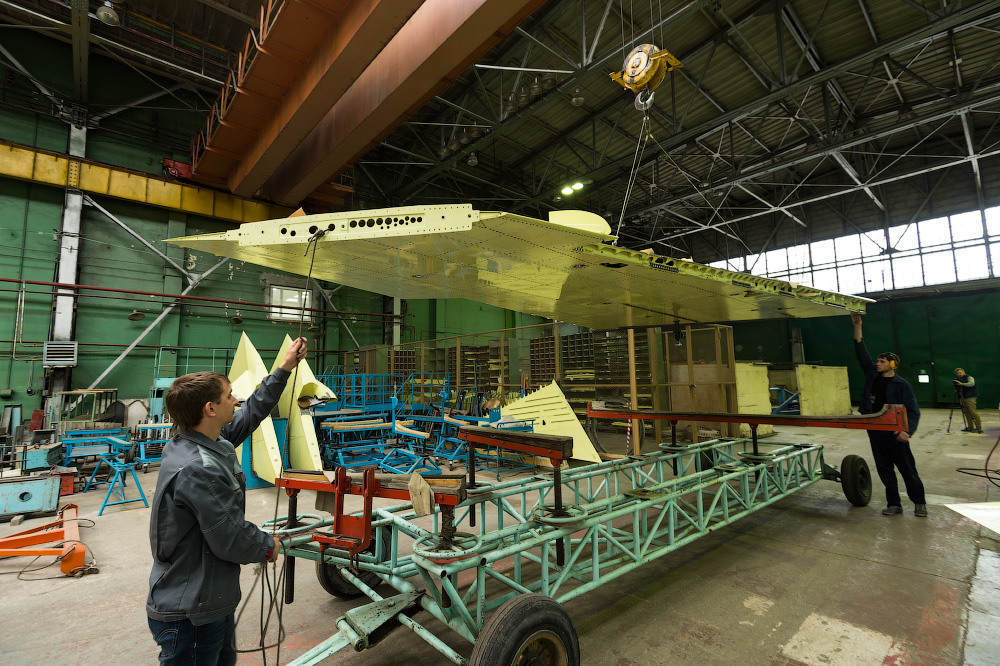 25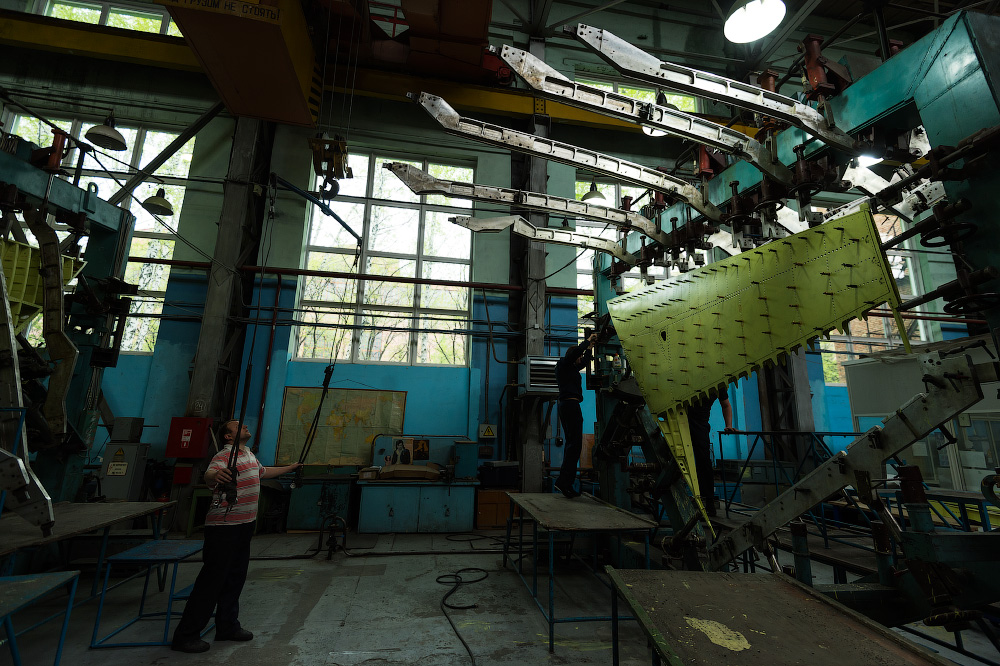 26 Instead of a dinner we go to look at tests of already ready planes. Again verification of documents, and in some minutes we in the field. On start prepare two cars, one just descended from the plant building berths, the second already painted is its extreme test departure. It will sit down already in the regiment ordered to it.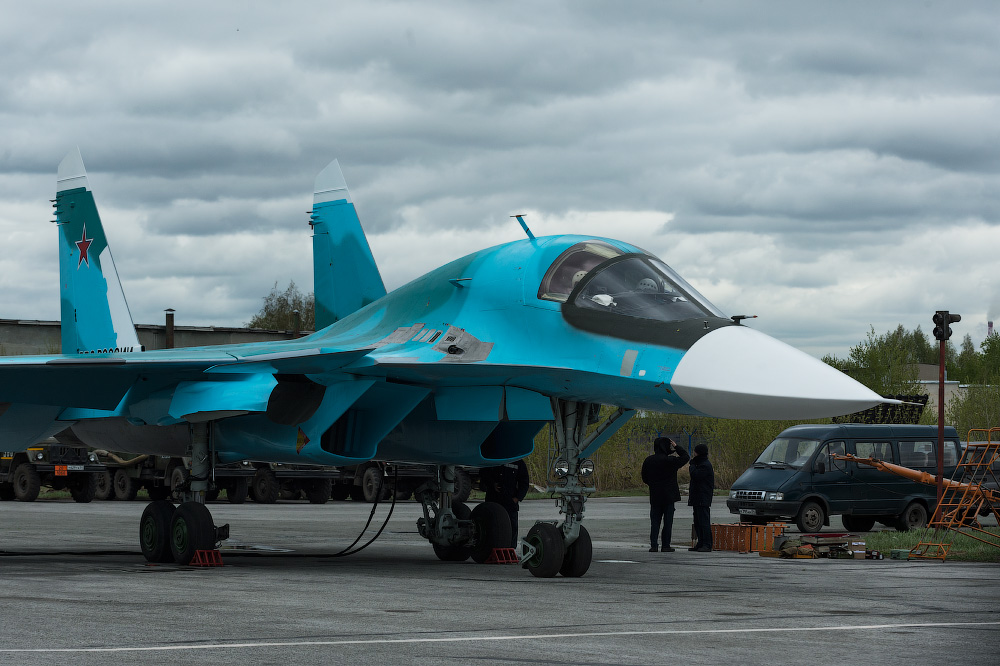 27 Yet оперившийся a baby bird, today at it the first tests. Many wrongly consider, time-34 began to be produced by SU in lots, why it to test in different modes? With this opinion in a root is not agree at plant – after all during tests it is necessary to provide all that pilots in a front part flied reliably, surely and safely!

28 While I try to be warmed on a penetrating wind. this car passes the last preflight preparations. Pilots already in a plane cabin.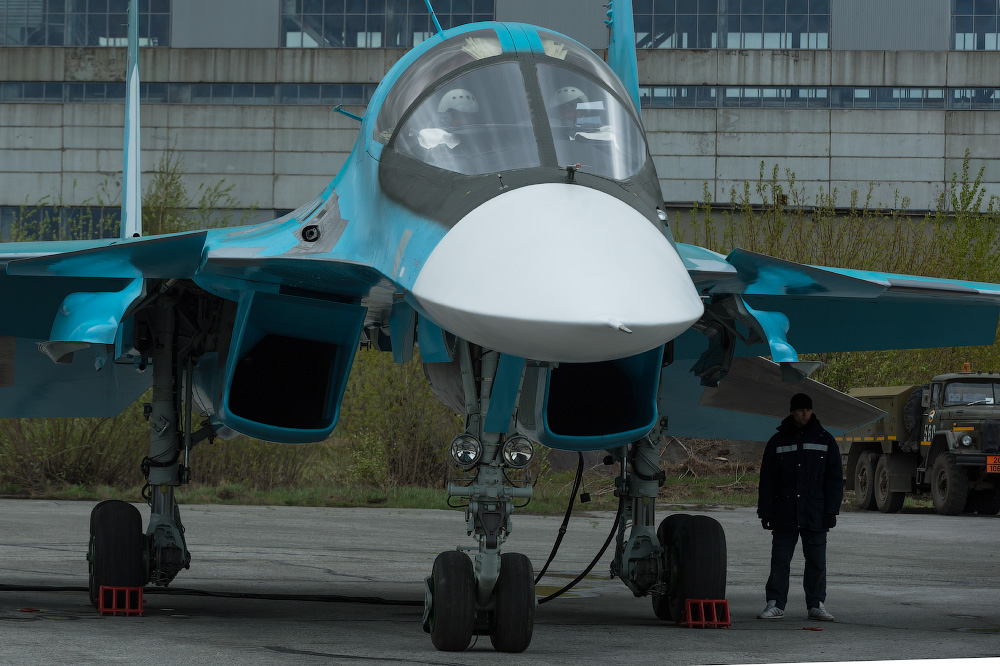 29 Look of the professional from capital letter. Children know the business for all 150 percent! By the way, they check flight qualities of the car flying at extremely low and biggest heights in a supersonic mode. In such modes in front parts do not fly! The pilot verifier has only 4 flights for two hours factory pilots, and 3 more flights by pilots already the customer.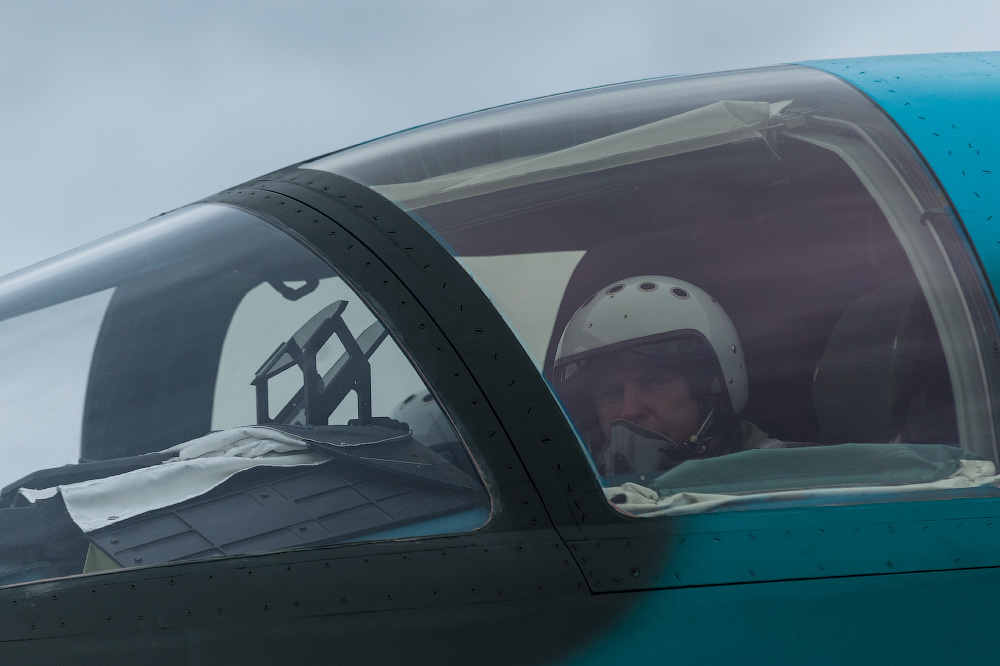 30 Before the poured in testing of all wings and the planes is held.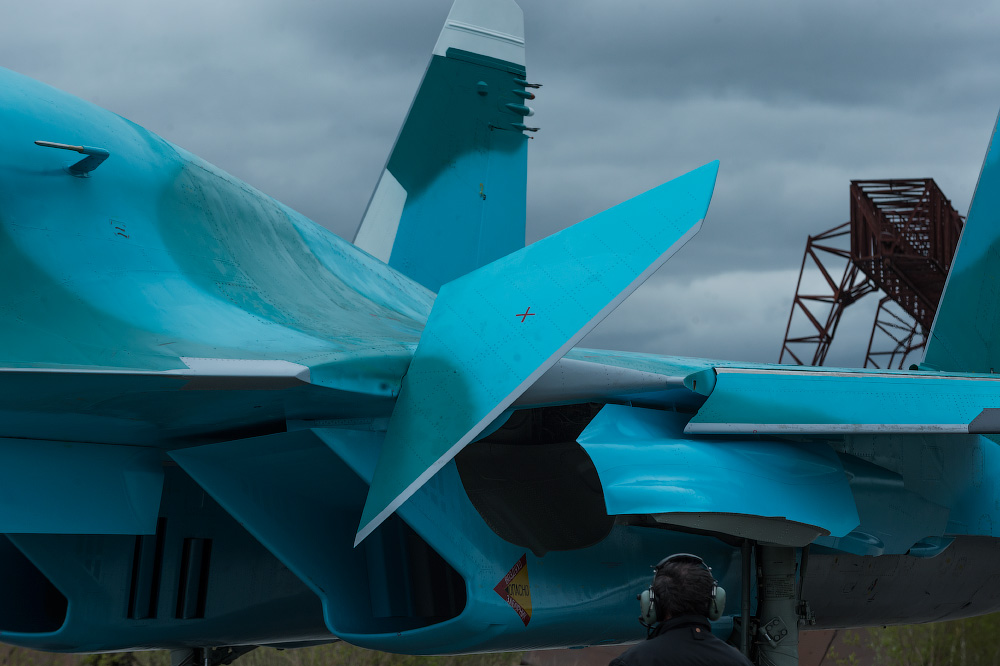 31 So transport to a place of tests one more car.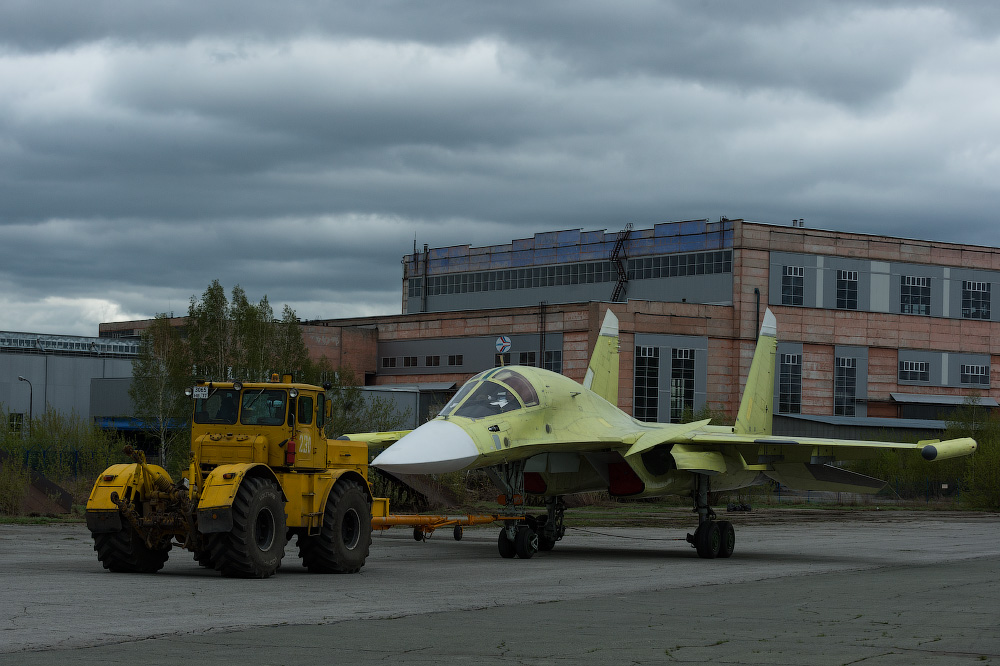 32 the Deserved pilot verifier Valery Potashyov. Now he is 66 years old, an experience of flight work of 43 years, only imagine, as far as it is necessary to be strong what in 66 years to have the admission to such flights!
Valery Serpionovich told that for one test flight by the car 350 modes are tested. The general operability of systems of the plane, engines, the onboard and radar-tracking equipment are checked.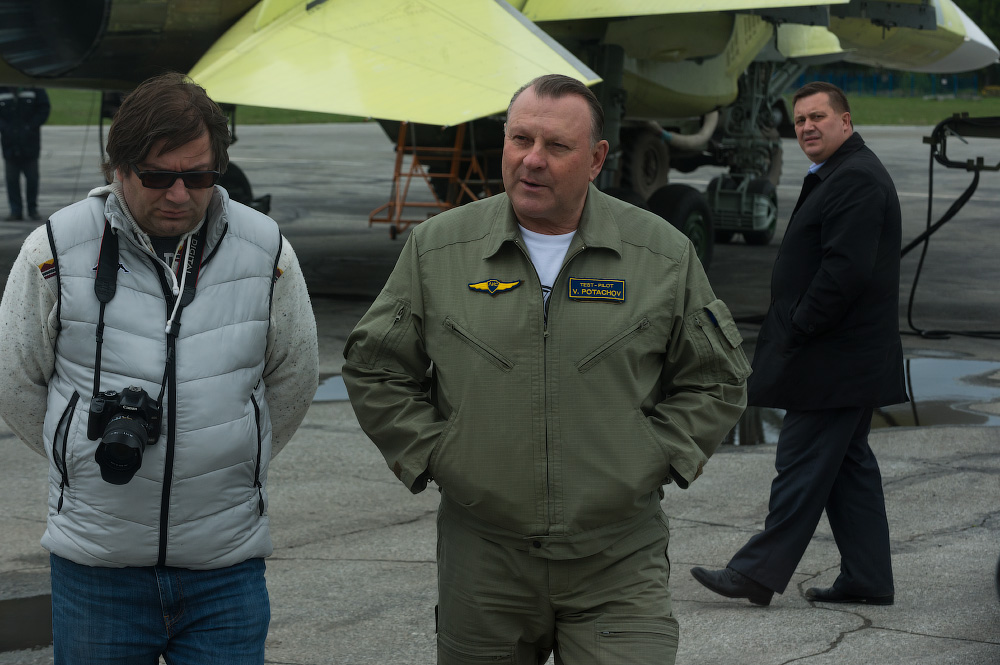 33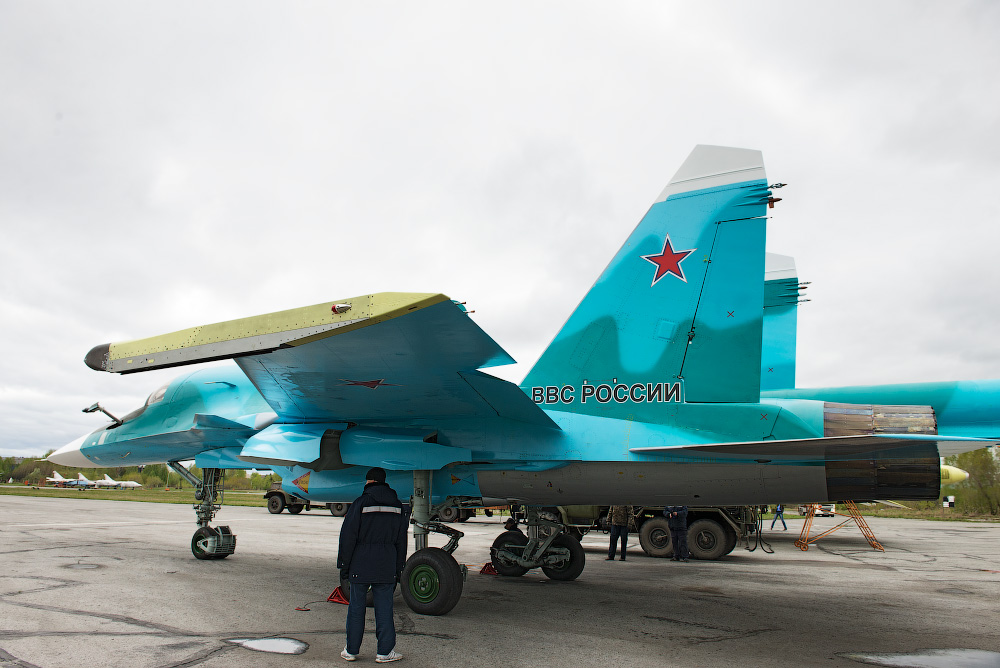 34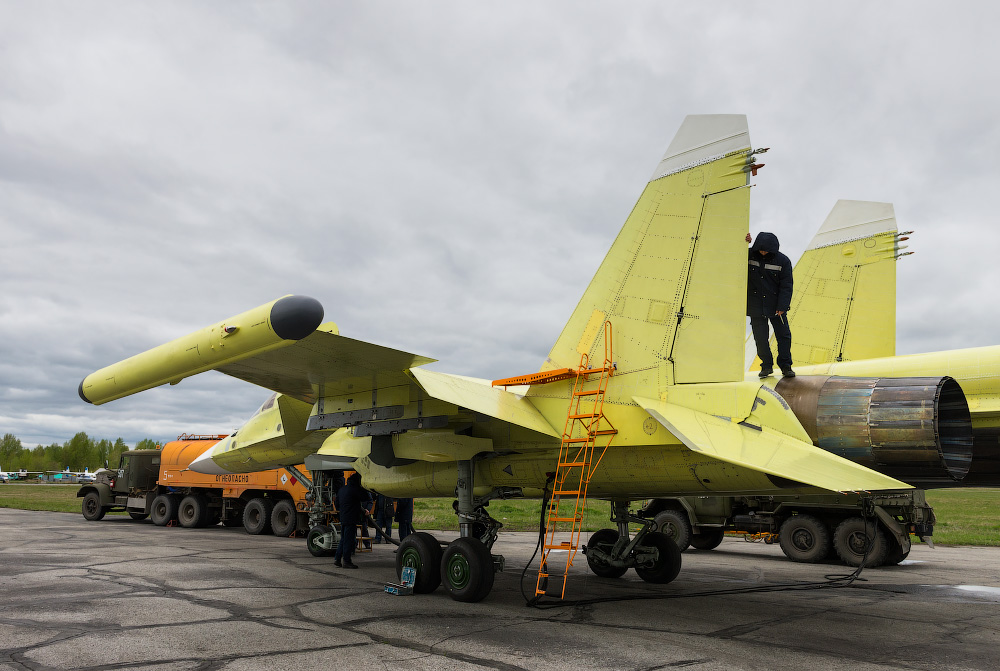 35 Likely this brightest impression when in 7-10 meters from me this car thundered, being put forward on a vzlyotny strip. The roar of engines covers also second – two nothing is audible. Then, already before the take-off, Su-34 cut cursors on all capacity. You as there it is now loud would know, the officer standing nearby told to us…

36 New steel bird, having made short running start, sharply came off the earth and in some seconds was gone among low floating clouds, towards to the sun, and to a place of the dwelling.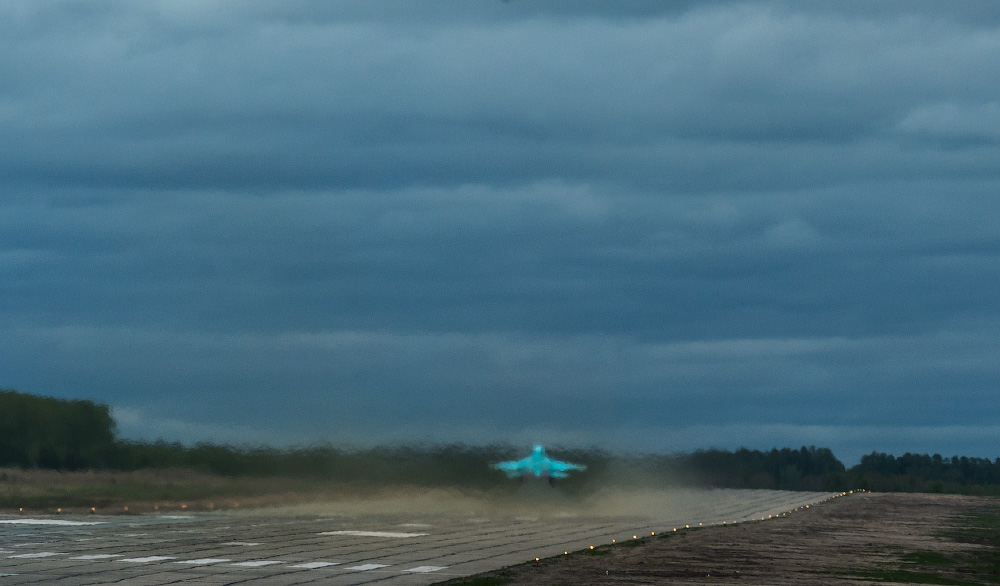 It is taken from dementievskiy in the Birth of a front bomber of a sou-34.
If you have production or service about which you want to tell to our readers, write write to me – Aslan (shauey@yandex.ru) Ler Volkov (multypassport@gmail.com) and Sascha Kuksa (alxmcr@gmail.com) and we will make the best reporting which will see not only readers of community, but also a site http://bigpicture.ru/ and http://ikaketosdelano.ru
Subscribe also for our groups in a Facebook, VKontakte, schoolmates and in гугл+плюс where will give all the best most interesting of community, plus materials which are not present here and video how things in our world are arranged.