GRAND BAHAMA ISLAND
Deke Slayton had also flown in ahead of Shepard's arrival, and he waited patiently alongside Grissom as the TF1 taxied in at the auxiliary air base. The two men were in high spirits after a day of high drama. Once Shepard had stepped down from the airplane they clapped him on the shoulder and knuckle-rubbed his crew-cut hair. For his part, Shepard playfully punched each man in the chest. The three grinned broadly and skipped around like small boys unable to contain their excitement. Slayton was heard to say that the flight had been "perfect – it couldn't have been any better. You pulled it off real good."
"Everything went fine," Shepard replied within earshot of reporters. He waved, but no interviews were permitted.
A host of technical and medical personnel were also present to greet the astronaut, including Bill Douglas and nurse Dee O'Hara, who has told the author that her joy in knowing that Shepard splashed down safely was "overwhelming… I was so relieved to see him." [2] Still joking and laughing, Slayton and Grissom accompanied Shepard to an Air Force station wagon belonging to Capt. Hugh May, the commander of the island missile tracking station. When they finally pulled up at the aluminum portable
C. Burgess, Freedom 7: The Historic Flight of Alan B. Shepard, Jr, Springer Praxis Books, DOI 10.1007/978-3-319-01156-1_7, © Springer International Publishing Switzerland 2014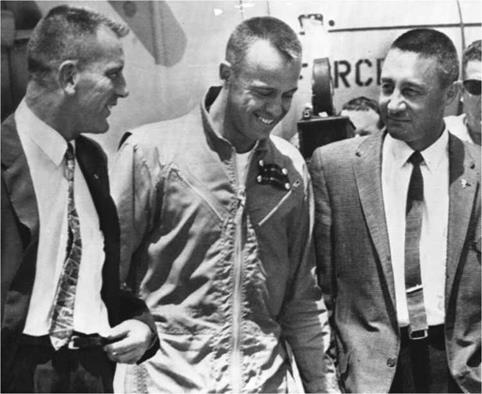 Deke Slayton and Gus Grissom welcome Shepard to Grand Bahama Island. (Photo courtesy of Dean Conger/NASA)
medical facility where Shepard was to undergo an extensive medical and psychiatric evaluation he was ushered inside, despite reporters shouting questions in an effort to get him to say a few precious words. Within the hour, a brief but heavy rainstorm had beat a tattoo on the white roof of the specially erected hospital.
Shepard called his wife Louise by radio telephone after he had settled in on the island and they spoke for a while, but the connection was bad and only a few phrases came through clearly. He told her that he was pleased with the way the flight went and asked about their family. She told him that the family was just fine, they were all proud of him, and had watched the launch on television.
John Glenn had been asked to sleep in Shepard's hospital room that night, as the psychologists had suggested that as a precautionary measure the returned astronaut should not be in a room by himself. It was obviously an over-reaction on their part, but nobody really minded. This was all new stuff to everyone. However, the whole eve­ning lay ahead of America's newest hero. When later asked for his feelings on the events of the day, Grissom told reporters, "I have to admit I'm a little jealous. I think I've a fair chance of being on the next launch. I do want to be on the next one. I wanted to be on this one." Slayton chimed in, "I wished I'd been up there, too." [3]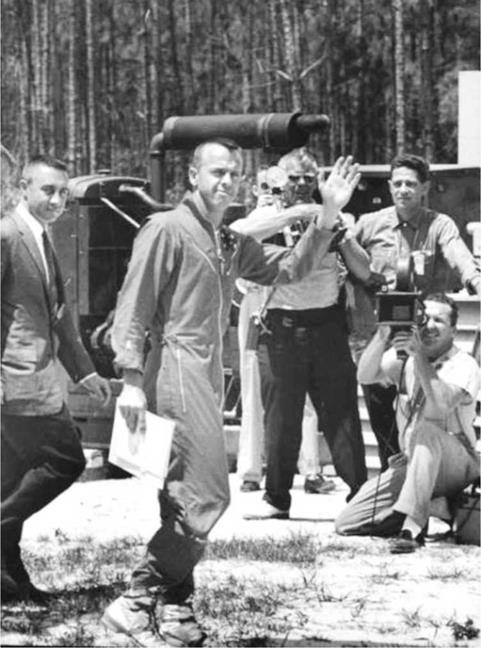 Grissom accompanies Shepard to the special medical facility. (Photo courtesy of Dean Conger/NASA)
Lt. Col. John ('Shorty') Powers, NASA's spokesmen for the astronauts, said he had never seen Shepard more cool and calm. He said Shepard's schedule for the first 24 hours would comprise of an extensive physical checkup lasting at least two full hours by Dr. Col. William Douglas, the astronauts' physician, and Dr. Maj. Carmault Jackson, an internist. Then Shepard would have a free half hour before a full hour of free dictation into a tape recorder recounting his experiences because, as Powers put it, "We want to make sure we don't lead him on his thoughts." Next, two engineers were to go over details with Shepard of the performance of the Redstone booster and of the Mercury spacecraft. On Saturday morning, following a good night's sleep, he would be interviewed by psychologists concerning his feelings and sensations [4].
Astronauts Carpenter, Cooper, Glenn and Schirra flew in later that day so that the entire group could hear Shepard give an account of his experiences and indicate what they might expect when making their own missions. Project Mercury engineers were also bringing data tapes recorded during his flight so that they could discuss different aspects of the mission from an engineering viewpoint.
That night the Air Force base personnel were invited to what was known tongue – in-cheek as the "Grand Bahama Yacht Club" to celebrate the successful space shot. It was only a bare-bones club with a bar, and none of the personnel actually owned a yacht, but there was a dartboard and card games to amuse everyone as they enjoyed their drinks. The members of the press gathered at the front gate of the base were not allowed in to take pictures or conduct interviews.
When Alan Shepard and his astronaut colleagues walked in through the front door of the club in the early evening, the general noise and laughter instantly turned into a standing ovation. Shepard joined Bill Douglas, Dee O'Hara, and other base officials at their table.
Dee O'Hara has a lingering memory of the occasion, "That evening, I remember, we were relaxing in an island bar with a little TV sitting on a plank in a corner. Alan, Bill Douglas and I were able to sit back and finally watch all the news of his flight. Alan was in such a good mood – it had been quite a day!
"It seemed so unreal, sitting there watching TV with Al, and the reporters were saying how the astronaut was now on Grand Bahama Island, and probably enjoying a glass of iced tea. And there we were, knocking down a quiet glass of Scotch and water! I used to smoke back then, and when I lit one up Al leaned over and said, 'Ah, could I have a puff of your cigarette, Dee?' He also smoked back in those days, and he hadn't had a cigarette since before his flight, so I said 'Sure!' He took one puff, had a swig of my Scotch and water, and I remember thinking to myself, 'Oh public – if you only knew!'" [5]
Dee O'Hara was correct; newspapers the following day reported that Shepard had dined that evening on a huge shrimp cocktail, a roast beef sandwich, and iced tea.
As arranged, John Glenn slept in the same room as Shepard that night. "Being backup meant you virtually lived with the person," Glenn later reflected. "While his flight had gone perfectly, uncertainties remained. The doctors preferred not to leave the astronaut completely on his own, even after the flight. Nobody knew what the delayed action might be.
"Al's reaction was exuberance and satisfaction. He talked about his five minutes of weightlessness as [being] painless and pleasant. He'd had no unusual sensations, was elated at being able to control the capsule's attitude, and was only sorry that the flight hadn't lasted longer." [6]
On Saturday morning, relaxing in a sports shirt and slacks, Shepard sat down for breakfast just before 8:30 a. m. and enjoyed a hearty meal of scrambled eggs, toast, jelly, and orange juice. Ahead of him lay a busy day filled with more medical checks and a host of interviews. In all, some thirty-two specialists would participate in the debriefing, including physicians, program managers, operations engineers, public relations personnel and official photographers. In addition to receiving a full medical from Bill Douglas and his team, he would be asked about his in-flight activities and performance, and about the performance of the vehicle systems.
Dr. George Ruff, a psychiatrist at the University of Pennsylvania, and Dr. Robert Voas, a NASA psychologist and training officer, were present to conduct extensive interviews with Shepard. His reflexes were also checked by Dr. Carmault Jackson, and his general well-being assessed by Dr. Phillip Cox. There would be another chest X-ray and more blood samples taken. Later that day, they agreed that the astronaut was in excellent health and good spirits. "He's just like he was before the flight, only he's happier, of course," reported Bill Douglas, who said the tape records of Shepard's flight "showed he performed remarkably well the complex tasks required of him. Five minutes of weight­lessness apparently posed no problem, nor did the increased gravity pull of reentry." [7]