MOVING RIGHT ALONG
Shepard, meanwhile, was preparing to depart the USS Lake Champlain for Grand Bahama Island, where he would undergo a far more intense medical examination and debriefing.
Most of the NASA personnel were escorted to the COD, a Grumman TF1 Trader, by a beaming R/Adm George Koch, with Capt. Weymouth in attendance. Then the astronaut made his appearance, climbing up the deck-edge ladder from the admiral's cabin. The crew saw he had discarded his silver space suit, although he still wore his silver flight boots, and was now wearing a more comfortable orange flight suit with a leather patch on the left breast which said ALAN SHEPARD, ASTRONAUT, USA. The flight suit and the name tag had been somewhat hastily made aboard ship. Since Shepard had urinated in his space suit during the extended pre-launch delay, it was a welcome change of clothing for him.
Still curious about the condition of his spacecraft, Shepard made a diversion over to where Freedom 7 rested on its platform and shook hands with Charles Tynan, as Admiral Koch and Capt. Weymouth looked on. The astronaut and technician spoke briefly, then both men mounted the platform for a closer inspection of the spacecraft.
As Tynan informed the author, everything was not exactly as it may have seemed. "Since Shepard was the first U. S. astronaut we were told not to speak to him because they did not want anyone to 'cloud his mind' with thoughts other than the flight. I had finished getting in the capsule to record all switch positions and gauge readings, and I was standing near the capsule when Shepard appeared. He had finished with the doc­tors and wanted to examine the capsule before leaving the ship. He started a long conversation with me, telling me how wonderful the 'too short' flight was and that he was pleased that he came down within sight of the carrier. He said he rejoiced when the main parachute deployed."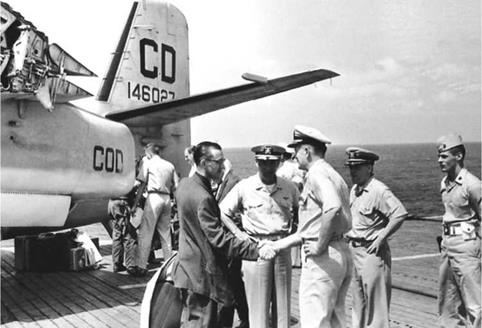 Capt. Weymouth shakes the hands of Richard Mittauer from NASA's Public Affairs Office as Admiral Koch (rear, center) looks on. (Photo courtesy of Ed Killian)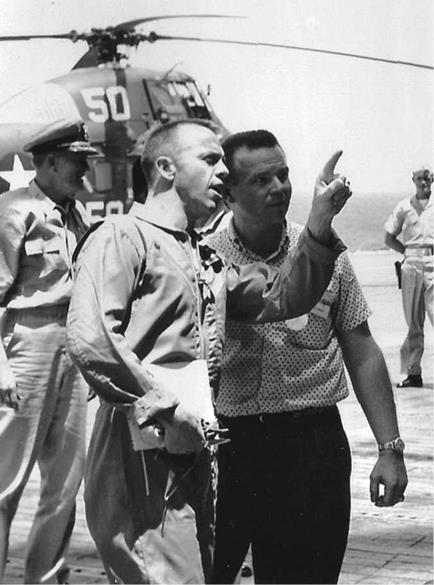 Shepard talking to NASA Recovery Team Leader Charles Tynan. Capt. Weymouth stands at the rear. (Photo courtesy of Ed Killian)
Tynan said a later TV report on the flight mentioned that he and Shepard seemed to have been engaged in a very technical discussion. "Far from the truth: he wanted me to take the 8-day clock out of the capsule, bring it back to the Cape and give it to him. I was hesitant to start taking parts out of the first space flight capsule, resisting his request, and that is why our discussion lasted so long. Because the clock had no significant value to the flight, I removed a few screws and it was in my briefcase in no time. I gave it to Shepard a few days later in Hangar S. I understand that the seven astronauts had the clock mounted in a piece of walnut for their attorney's desk, who wasn't charging them for his work. I believe his name was something like [D'Orsay] who owned a small interest in the Washington Redskins football team." [48]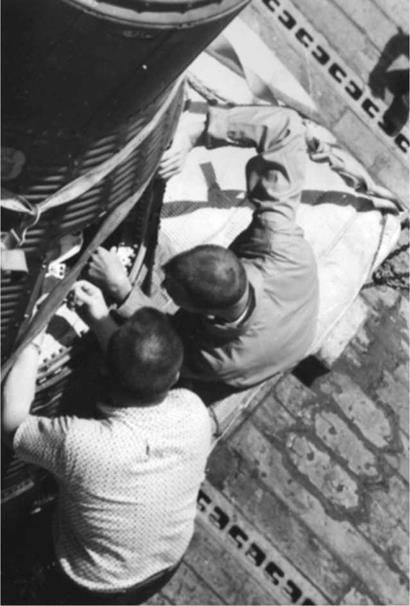 Shepard and Tynan peer into the spacecraft's interior. (Photo courtesy of Ed Killian)
Soon after, Ed Killian gained a prized memento of the day as Dean Conger took photographs from below of Shepard standing on the platform. "At the same time, those of us in Pri-Fly were snapping photos from above. Conger's photo of Shepard leaning into the capsule shows Pri-Fly just above the capsule. We moved back along the 05 level catwalk on the island and snapped a couple of pictures of Shepard at the capsule. Conger snapped a picture as he turned away from the capsule; this picture captured the Assistant Air Boss Tom Cooper, Air Controlman Russ Duncan and Air Controlman Ed Killian taking pictures from the catwalk just outside Pri-Fly and above Shepard."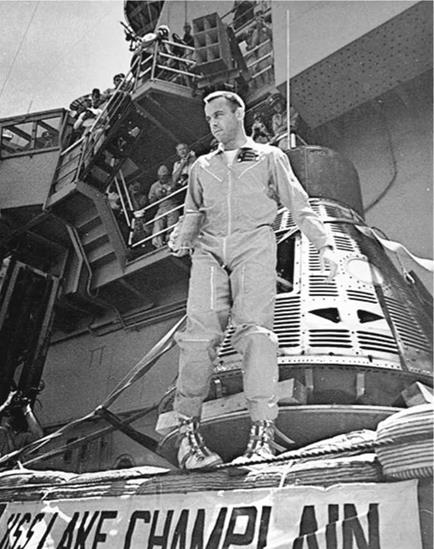 Camera-bearing crew members can be seen on the catwalk taking their photographs. (Photo courtesy of Dean Conger/NASA)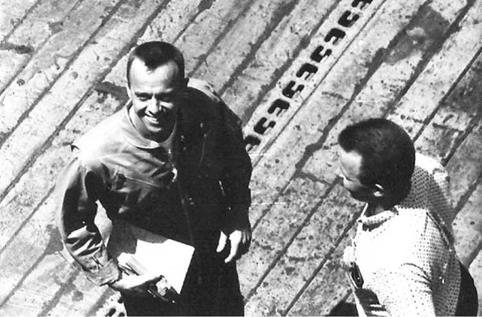 This photograph, taken from the catwalk, shows a happy Alan Shepard after he had concluded his "business" with Charles Tynan. (Photo courtesy of Ed Killian)
Before leaving, Shepard found time to have a brief conversation with the ship's commanding officer, Capt. Weymouth. "He told me that four or five years from now we may look back on this as a pretty crude thing," Weymouth later revealed, "but at this moment it seemed a tremendous event." [49]
The ship's Executive Officer, Cdr. Landis E. Doner, R/Adm Koch, and his Chief of Staff then presented Shepard with records of his flight and its recovery.
Finally, having completed his inspection of Freedom 7, Shepard walked aft to the airplane that would take him to GBI for a battery of medical tests to be carried out in a special one-man "hospital". Two of the three HMR(L)-262 Marine helicopters and one S2F Tracker from VS-32 were to accompany Shepard's TF1 to Grand Bahama Auxiliary Air Force Base, about 75 miles southwest of the recovery site.
As Shepard's aircraft made a rolling takeoff from the USS Lake Champlain to the cheers of her crew, he had spent a mere 2 hours 25 minutes aboard the carrier. About 40 minutes later, another S2F from VS-22 flew off to deliver photographic film to Patrick Air Force Base at Cape Canaveral.