Mass media: military of the Russian Federation equip airfields in Latakia and Tartusa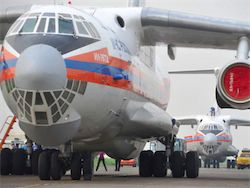 In Syria military from Russia equip a runway in the region of Latakia, and also conduct works on airfield expansion near Tartus. About it to agency France Press was reported on September 13 by the Syrian observant Commission on Human Rights (СНКПЧ).
The commission which is based in London and leans on an extensive network of informants in Syria, reports about arrival in Latakia of hundreds Russian military experts and advisers. СНКПЧ argues: «the Russian forces equip the long runway, capable to accept big transport planes, near military airfield Hmaimim in the province of Latakia».
According to the head of the commission Rami Abdel Rahman, Russians do not allow in a zone of construction of Syrians – military and civil. In recent weeks Hmaimim the Russian planes «delivered the equipment to airfield and hundreds military advisers and technical experts».
Rahman also specified AFP that Russians conduct works on airfield expansion in Hamidy, near Tartus. This airfield was initially intended for agricultural aircraft.
On Saturday, September 12, the Syrian official mass media reported about arrival in the country of 2 Russian planes with 80 tons of «humanitarian cargoes». They landed at the international airport of Latakia.
This Sunday the Minister of Foreign Affairs of the Russian Federation Sergey Lavrov declared that Moscow will continue deliveries of military cargoes to Syria under existing contracts and agreements. Information on strengthening of the Russian military activity in Syria causes concern of the USA and EU. Moscow rejects suspicions in a transfer of the military and armored machinery to the aid of Bashar Assad's mode.