Fighters of the USA and Russia met for the first time over Syria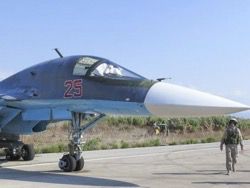 The American pilots could observe for the first time visually the Russian colleagues on screens of an onboard radar in the sky over Syria, reports Interfax referring to the statement of the commander of the U.S. Air Force of general Charles Brown.
«Only some miles with our bespilotnik, as to piloted planes were the most short distance, distance was not closer than 20 miles (32 km)», – Brown told.
He also specified that the aircraft of the USA will avoid meetings with the Russian planes and assured that it will not take a lot of time.
«We are in the sky much more more often than Russian therefore when we should bypass them with a view of safety, it only a short period in comparison with many hours during which we fly over Syria and Iraq», – was declared by the general.
Brown noted that the USA plan to bomb positions of «The Islamic state» by means of the strategic B-1 Lancer bombers for which collision with the Russian warplanes is undesirable.
At the same time the deputy minister of defense of Russia Anatoly Antonov reported that military departments of Russia and the USA prepare the joint document which will allow to adjust interaction between the Russian and American aircraft in Syria.
«Americans transferred us the document over which we work. I want to tell that this document in principle got in the General Staff support, we work over its contents», – Antonov declared.
Earlier the representative Maria Zakharova told the Ministry of Foreign Affairs of Russia, why Russia will not participate in the western coalition against terrorist group «Islamic state».