A ROCKET FOR THE COLD WAR
A modified and enhanced descendant of Nazi Germany's deadly A-4/V-2 rocket, the Army's Redstone missile was developed through the efforts of around 120 captured ex-Peenemunde rocket engineers who, along with their families, had been transferred to the Huntsville facility after undertaking related ordnance work at White Sands, New Mexico in 1950. The move to Huntsville was met with much enthusiasm, as the isola­tion and desert sparseness of White Sands was in stark contrast to the greenery they had known in Germany. Once settled at the recently formed Ordnance Guided Missile Center (OGMC), they would continue their design and development research under the erudite leadership of recently appointed technical director, Dr. Wernher von Braun. They would also be joined in their work by hundreds of other research personnel from White Sands, including contract employees with the General Electric Company and a number of Army draftees possessing degrees in math, science, and engineering.
The Redstone (tracing its name, like the Huntsville arsenal, to the red rocks and clay soil abundant in that region) had begun life as one of three tactical missiles of differing size and capabilities that were undergoing rapid development by the Army in
C. Burgess, Freedom 7: The Historic Flight of Alan B. Shepard, Jr., Springer Praxis Books, DOI 10.1007/978-3-319-01156-1_1, © Springer International Publishing Switzerland 2014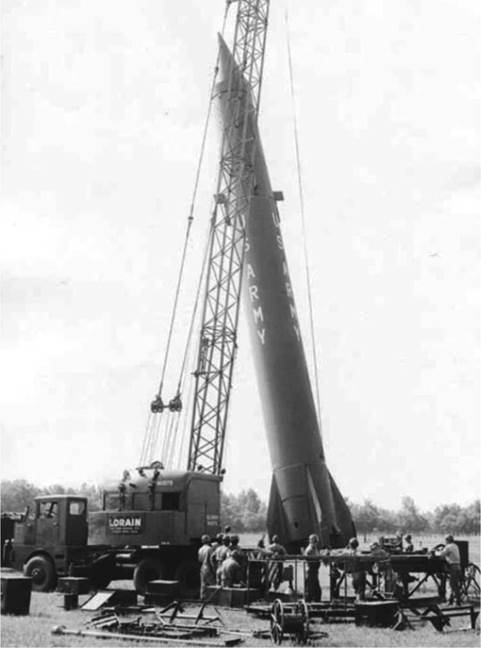 U. S. Army personnel hoist a Redstone missile upright prior to a test firing exercise. (Photo: U. S. Army)
order to deliver nuclear warheads. These missiles were designated the Corporal, Hermes A3, and Hermes C1.
In October 1950, Kaufman T. Keller, then president of the Detroit-based Chrysler Corporation, had been appointed by Secretary of Defense George C. Marshall to the part-time post of Director of Guided Missiles, with a full-time officer of the armed forces as his deputy. It was a new post within Marshall's office, and he said at the time that Keller's task was to provide him with "competent advice in order to permit me to direct and co-ordinate activities connected with research, development and production of guided missiles." The creation of this office had been recommended to Marshall by the Secretaries of the Army, Navy, and Air Force. The Department of Defense said this step also had the approval of both the Joint Chiefs of Staff and the Research and Development Board [1]. In this capacity, Keller agreed to a request from the Office of the Chief of Ordnance to accelerate the Hermes C1 program, handing primary respon­sibility for the tactical nuclear guided missile program to the OGMC of the Redstone Arsenal on 10 July 1951. The following year, on 8 April 1952, the Chief of Ordnance renamed it the Redstone missile.