Purpose: To copy the Lockheed U-2B. Design Bureau: OKB No 49, Taganrog, General Constructor G M Beriev.
On 1 st May 1960 the world was astonished to learn that the missile defences of Sverdlovsk had shot down a Lockheed U-2 of the US Central Intelligence Agency. Parts of the air­craft were put on display in Moscow's Gorkiy Park. What the world was not told was that for months afterwards a vast area was combed by large squads looking for every fragment of the downed aircraft (which had broken up at high altitude). All the pieces were brought to GK Nil WS, where they were carefully studied. On 28th June 1960 SovMin Directive 702-288 instructed OKB No 16 in Kazan, led by P F Zubets, to copy the J57-P-13 engine. This was a blow to Zubets, whose RD-500 was in the same thrust class, and even more to the several engine designers (Do­brynin, Lyul'ka, Kuznetsov and Tumanskii) who had engines on test which were more
powerful and of much later design than the massive Pratt & Whitney. On 23rd August 1960 Directive 918-383 ordered OKB No 49, assisted by neighbouring No 86, to study the U-2 and produce five copies, designated S-13. These were primarily to support 'a multi­discipline study of the structural, technical and maintenance aspects of the U-2, and master its technology for use in indigenous aircraft'. It was also expected that the S-13 would be used to collect upper-atmosphere samples, destroy hostile balloons and (using the 73-13, or AFA-60, camera) undertake re­connaissance missions. Despite inexorable increases in weight over the US original, work attempted to meet the first-flight date of first quarter 1962. Much of the supporting equip­ment had already been developed for the Yak-25RV and TsybinRSR (which see). On 1st April 1961 a detailed metal fuselage mock-up was completed, with 'models of its systems'. A Tu-16 was readied for testing the engine (now designated RD-16-75), landing gears
and other items, while CAHI tunnels con­firmed that the U-2 had the exceptional L/D ratio of25. Out of the blue, on 12th May 1962 Directive 440-191 ordered the whole S-13 project to be terminated.
S-13 metal mock-up fuselage.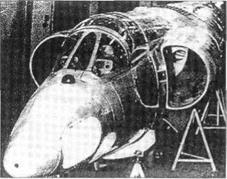 Purpose: To test previously invented 'parabola wing' in a powered aircraft Design Bureau: Not an OKB but a private individual, Boris Ivanovich Cheranovskii (1896-1960). Throughout his life he scratched around for funds to build and test his succession of 30 types of gliders and powered aircraft, all of 'tailless' configuration.
In 1924 Cheranovskii tested his BICh-1 'Para­bola' glider and the refined BICh-2, which demonstrated 'normal longitudinal stability and controllability and is considered to have
been the world's first successful flying wing'. In 1926 he followed with the BICh-3, which was almost the BICh-2 fitted with an engine. Cheranovskii's gliders had been flown at the All-Union meetings at Koktebel, Crimea, but most of the flying of his first aeroplane was done by B N Kudrin (later famous) in Moscow.
The BICh-3 was a basically simple aircraft, constructed of wood with thin ply skin over the leading edge, inboard upper surface and landing-gear trousers, and fabric elsewhere. The BICh-2 had flown without a rudder (it was better with one) since turning was
achieved by the ailerons. With the BICh-3 the addition of an engine required a vestigial fuselage with a fin and rudder. The main con­trols remained the trailing-edge elevators and ailerons, operated by rods and bellcranks and hung on inset balanced hinges. The engine was a Blackburne Tomtit, an inverted V-twin of 698 cc rated at 18hp. Skids were provided under the tail and outer wings.
Kudrin described the BICh-3 as 'not very stable, but controllable'. It was sufficiently successful to lead to the many successors.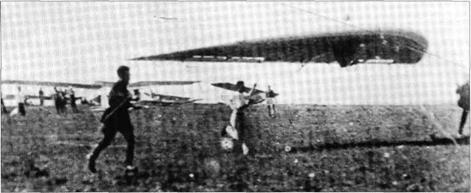 Above: BICh-1.
Dimensions
| | | |
| --- | --- | --- |
| Span | 9.5m | 31 ft 2 in |
| Length | 3.5m | Ilft6in |
| Wing area | 20.0 m! | 215ft2 |
| Weights | | |
| Empty | 140kg | 309 Ib |
| Fuel/oil | 10kg | 22 Ib |
| Loaded | 230kg | 507 Ib |
| Performance | | |
| Max speed, not recorded | | |
| Landing speed | 40km/h | 25 mph |
Nootherdata.
Left: Cheranovskii with BICh-3.