The Cassini orbiter has twelve scientific instruments and the Huy­gens probe had six. Tools on this "Swiss army knife" fall into three categories: remote sensing using visible light, remote sensing using microwaves, and studies of the environment near the spacecraft (figure 5.4). Despite using 13,000 electronic components and 10 miles of cable, each of the instruments has worked as planned. Many scientific studies use data from more than one instrument. The optical remote sensing instruments are all mounted on a pal­ette so that they face the same way. The main camera on Cassini is the Imaging Science Subsystem and it has been most people's en­tree into the exotic world of Saturn and its moons. Carolyn Porco, the principal investigator of the instrument team, maintains a web­site loaded with amazing images and evocative descriptions.27 As noted earlier, she uses a Captain's Log motif with affectionate al­lusions to Star Trek, and its clear she's having the time of her life as Cassini images new worlds with unprecedented levels of detail. She's compared a leadership role in a big space mission with child rearing—a journey of thrills and heartache, excitement and oc­casional disappointments, lasting twenty years or more. Even the most jaded cynic about big science would be entranced by the best pictures from the main imager.
Two mapping spectrometers look at the properties of Saturn, its moons, and its rings at optical and infrared wavelengths. This is the key to determining their composition and temperature. An ul­traviolet spectrometer does the same thing at shorter wavelengths than the eye can see, as another guide to chemical composition. Cassini can't capture samples of the atmospheres or rings, so re­mote sensing with spectrometers is the best guide to chemistry. The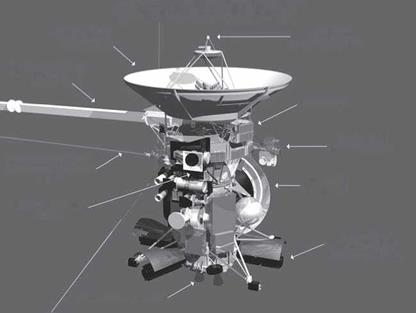 CASSINI SPACECRAFT
Low-Gain
Antenna (1 of 2)
445 N Engine (1 of 2) –
Figure 5.4. Cassini is a large and complex spacecraft about the size of a bus, with twelve scientific instruments, plus six on the Huygens lander. The instruments include cameras and spectrometers and others to measure magnetic fields, high energy particles, radio waves, microwaves. The power source is radioactive plutonium (NASA/Jet Propulsion Laboratory).
spacecraft's microwave remote sensing instruments function a bit differently. Optical remote sensing just uses available light or radi­ation reflected from the planet, moon, or ring particle. Cassini has to generate its own radio waves and microwaves, send them to the target with a 4-meter high gain antenna at one end of the space­craft, then "listen" for a weak echo signal. The radar instrument can penetrate Titan's atmosphere and so make topographic and compositional maps. It can also see deeper into the atmosphere of Saturn than any other instrument. The radio instrument looks for fine structure. It also makes Doppler measurements that allow the masses of Jupiter's moons to be precisely calculated.28
A set of onboard instruments measure energetic particles, ions, and magnetic field strengths at the position of the spacecraft at any time. Here the complex orbital gymnastics are essential; to make a map of these properties the onboard instruments need to sample data from as many locations within the system as possible.
Several of the six instruments are devoted to understanding Sat­urn's magnetic field via the charged particles that it often accel­erates. To avoid overspecialization, NASA selected six teams of interdisciplinary scientists. Their job is to use Cassini's instruments in concert to maximize the learning and perhaps answer questions that hadn't been anticipated. All this instrumentation is power – hungry and like other probes to the outer Solar System, there isn't enough sunlight for solar panels, so Cassini uses 72 pounds of Plutonium.