Pitch-up afflicted a wide range of early transonic and supersonic jet fighters, and the NACA was fortunate in having an available research airplane that could study swept wing behavior across the transonic regime. This aircraft was the Douglas D-558-2 Skyrocket, "Phase II" of the larger D-558 research aircraft program, a Douglas Company ven­ture begun in 1945 and sponsored by the U. S. Navy and the NACA. The D-558 program had begun as a companion to the XS-1 effort and repre­sented a different design approach. Where the XS-1 was rocket powered, the D-558 Skystreak used a turbojet; where the XS-1 employed an ogi­val projectile shape with a midwing of 8-percent thickness-chord ratio, the D-558 used a constant-diameter tube wrapped around an axial-flow turbojet engine and a low wing of 10-percent thickness-chord ratio; and where the XS-1 was air launched, the D-558 took off from the ground as a conventional airplane. Both were straight wing designs, with their adjustable stabilizers and movable elevators placed midway up their ver­tical fins. All together, the Navy ordered six D-558 aircraft from the firm.[55]
Originally, swept wings had not featured in the D-558 program. Then the discovery by Douglas engineers of a plethora of German tech­nical reports (coupled with the work of Jones and others in the United States) caused the Navy, the NACA, and Douglas to modify the D-558
program.[56] The last three aircraft were completed as a new swept wing design. Initially, the planned modification seemed straightforward: replace the straight wing and tail surfaces with swept ones. In antic­ipation, Langley tested models of the D-558 with a variety of swept wings. But the possibility of giving the swept wing D-558 supersonic performance—something the D-558 straight wing lacked—resulted in a more radical redesign. Gone was the simple Pitot intake inlet. Instead, designer Edward "Ed" Heinemann and his team chose an ogival body shape resembling the XS-1. The new 35-degree slat-equipped swept wing was relocated to midfuselage position and given anhedral (droop), with the landing gear relocated into the fuselage. In contrast to the original single-engine D-558s, the new swept wing design featured both a 6,000- pound thrust rocket engine and a small turbojet. Thus recast, it received the designation D-558-2 and the name Skyrocket, to distinguish it from the straight wing Skystreak, itself redesignated D-558-1. The result was one of the most elegant and significant aircraft of all time.

The first D-558-2 flew in February 1948, though initial flight tests gave little hint of how remarkably versatile and successful it would prove. At max takeoff weight, it was so underpowered (and thus so slug­gish) that it needed four solid-fuel jettisonable assistance takeoff (JATO) rockets to help kick it aloft. Eventually, the Navy and the NACA would arrange to take the second and third Skyrockets and modify them for air launch from a modified PB2-1S (Navy B-29) Superfortress, dramatically improving both their safety and high-speed performance; fuel previously
spent climbing aloft could now be more profitably expended exploring the transonic and supersonic regimes. While the third aircraft retained its jet and rocket engine, the second had its jet engine removed and additional tanks for rocket propellant and oxidizer installed. Thus modified, the second aircraft reached Mach 2.01 in November 1953, flown by Scott Crossfield, the first piloted Mach 2 flight, having earlier attained an alti­tude of 83,235 feet, piloted by Lt. Col. Marion Carl, a noted Marine aviator. Eventually, the NACA received the first D-558-2 as well (which Douglas had employed for contractor testing). The Agency modified it as an all-rocket aircraft, though it only completed a single check flight before being retired.

Before all-rocket modification, the second Skyrocket introduced Agency pilots to the hazards of pitch-up. On August 8, 1949, during its seventh flight, pilot Robert Champine banked into a 4 g turn at Mach 0.6, and the Skyrocket violently pitched up, reaching 6 g. It responded rapidly to full-down elevator, and Champine made an uneventful (if pru­dently precautionary) landing. Thereafter, until returning the airplane to Douglas for all-rocket modification in 1950, the NACA flew extensive pitch-up investigations with it. In November, pilot John Griffith repli­cated the 4 g and Mach 0.6 pitch-up that Champine had experienced earlier. This time, however, he attempted to continue flying to more fully assess the Skyrocket's behavior. Thus challenged, it snap-rolled on its back. After recovering, Griffith probed its low-speed behavior, gradually slowing, with flaps and gear extended and wing slats closed. At 14,000 feet and 130 mph, the Skyrocket pitched up, rolling into a spin, and los­ing 7,000 feet of altitude before its pilot could recover.[57] Clearly its ugly behavior did not match its alluring form.
Focused on extending the Skyrocket's performance into the super­sonic regime by modifying the second aircraft as a pure rocket plane, the NACA turned to the third aircraft, which retained its jet engine as well as its rocket, for future pitch-up research. Air-launched, the jet-and- rocket Skyrocket had tremendous research productivity; it could accelerate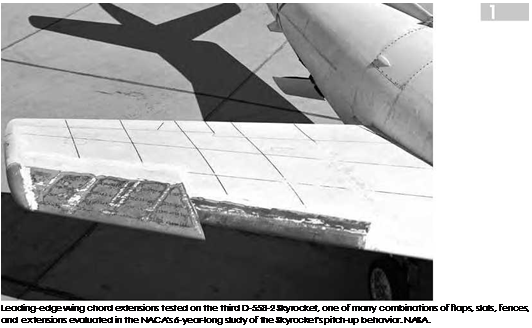 into the supersonic regime, above Mach 1.1, and its jet engine enabled it to "loiter" in the transonic region, making repeated data-gathering runs. Its comprehensive instrumentation package enabled assessment of loads, pressure distributions, and accelerations, evaluated against background data on flight conditions, aircraft attitude, and control surface position and forces. Between the end of 1950 and the fall of 1956, it completed 66 research flights on pitch-up and associated transonic phenomena, includ­ing the evaluation of the effects external wing stores—tanks and bomb shapes—had on aircraft performance. It evaluated a variety of proposed aerodynamic solutions and fixes to resolve the pitch-up problem, includ­ing various wing fence designs to "channel" airflow and inhibit the char­acteristic spanwise-flow (flow toward the wingtips) found with swept wing planforms, various combinations of slat and flap position, changes to lead­ing edge shape, and "sawtooth" leading edge extensions on its outer wing panels. All of this testing reinforced what engineers suspected, namely that no one overall technical fix existed that could resolve the pitch-up challenge. Rather, swept wing aircraft design was clearly situational, and, depending on the mission of the aircraft and its resulting design, combina­tions of approaches worked best, chief among them being low placement of
the horizontal tail, below the chord-line of the wing, coupled with provision of stability augmentation and pitch-damping flight control technology.[58]