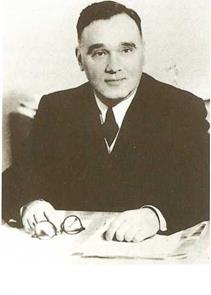 The Smallest Jetliner
The Soviet industry had, by the late 1960s, acquired a reputa­tion — deserved, no doubt, in some cases — of copying western aircraft designs. But one aircraft owed nothing to western influ­ence. The Yakovlev Yak-40 was a small jet, seating up to 32 passengers, for use on feeder routes which did not generate enough traffic to justify even the 40-48-seat Antonov An-24.
The distinguishing feature of the Yak-40 was its tri-jet engine configuration, with two in fuselage-mounted pods, and one fared into the vertical stabilizer, all at the rear, like the engines in the Trident, the Boeing 727, or the Tupolev Tu – 154, but on a much smaller scale. The normal entrance was by a ventral stair. A. S. Yakovlev, who had produced the Yak-9 and Yak-3 fighter aircraft that did such an outstanding job in the Great Patriotic War, thus made his debut in the commercial arena with a unique formula. Not only that, but in so doing, and allowing for certain shortcomings such as a shortage of baggage space (only one overhead rack, as a rule, on the right side; and no under-floor hold), Yakovlev pro­duced a small jet airliner for successful inter-city use; and this accomplishment has not been matched in the West.
The Yak-40 made its first flight on 21 October 1966 and entered service with Aeroflot on 30 September 1968. More than 1,010 were built at the Saratov production line and 130 were exported to 17 countries.
A. S. Yakovlev
Yakovlev pro­duced a mini-air­liner that has no equivalent in the west, (courtesy: Von Hardesty)
The Smallest Turboprop
Not long after the introduction of what may be described as the world's first mini-airliner, another small aircraft, designed for a similar air transport role, appeared on the scene. This was the 15-seat Let L410 (later produced as a 19-seater), sometimes known as the Turbolet, and was produced by the Let Narodni Podnik (Let National Corporation) in Czechoslovakia. The pre-war Czech aircraft industry had been obliterated by the Nazi occupation, but it pulled itself togeth­er again after the War, and by the late 1960s, was ready with innovative designs. The small turboprop seemed to be just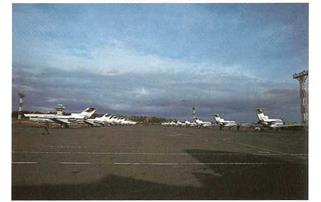 Line-up of more than 20 Yak-40s at Krasnoyarsk in 1992.
right for Aeroflot as a replacement for the aging Antonov An-2.In the event, it did not completely replace, but was a worthy complement to the 'Annuchik' in its versatility in using grass or gravel strips.
Like the Yak-40, the L410's baggage hold is at the back, but access is through a hydraulically actuated door in the left rear fuselage. Unlike the small tri-jet, however, there are no overhead baggage racks in the three-abreast configuration. A total of 902 of the Czech mini-airliners were exported to the Soviet Union.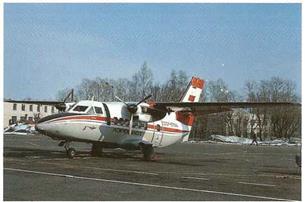 LetL410 SSSR-67544 at Khabarovsk.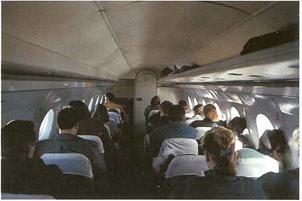 Cabin of a Yak-40 in 24-seat layout. In this version, baggage racks are open and on one side only. (Photos: R. E.G. Davies)